What a fantastic, totally draining, fun filled week of teaching San Francisco high school students how to cook, bake, and serve just harvested fresh and healthy homemade meals at Pie Ranch – farm to table style – you pick it, you cook it, you eat it!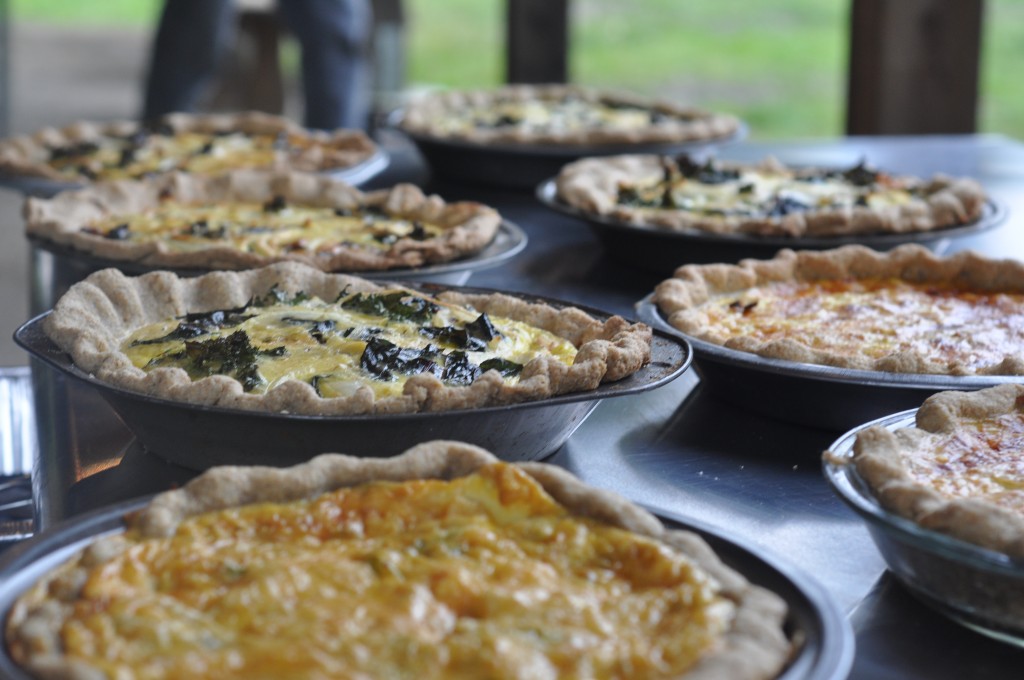 Um, Let me rephrase that: a fun filled week of thirty hormonally challenged high school students cooking, baking, farming, learning all about food systems, boning up on agriculture, and camping at Pie Ranch with no cell coverage – let the hunger games begin!
For the first time in my life, I was very popular. These young adults were keenly aware of who buttered whose bread. Either that or they just enjoyed listening to their "S.F. beats, yo" in my outdoor kitchen yo. A stereo with large bose speakers does wonders for one's status. Who knew? And who knew that so many young people wanted to become chefs too? Pictured below is an upcoming culinary star…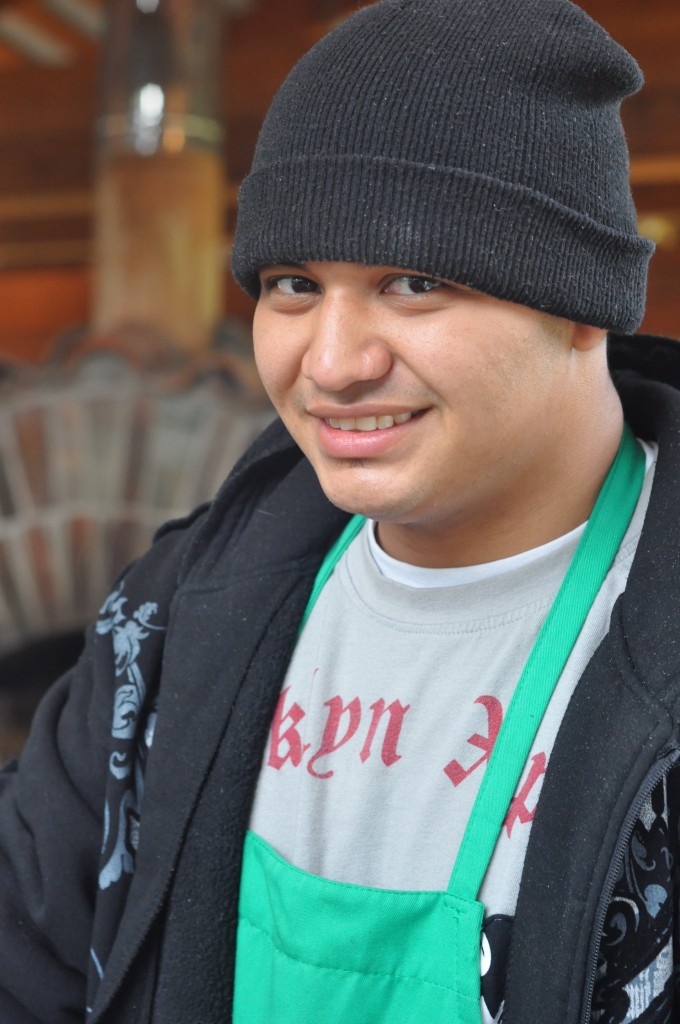 Yes, I heard it several times throughout the week: "Chef Amy is sooooo raw."
That's slang for 'cool'. In case you didn't know.
I knew I would impress with a chicken parting demonstration. I began the demo slowly taking one chicken apart piece by piece explaining each cut with careful attention to detail and then sped through the next chicken with shouts and gasps of amazement for my speed and precision from the teenage onlookers.
Again, the crowd roared: "Soooooo raw……"
But I wasn't the only "raw" instructor there. Oh no, there were several including their teacher Laurie, who has pioneered this partnership and program with Pie Ranch for the last five years. For half a decade she not only has camped with the students, monitored behavior, and provided lessons but also cooked 3 meals a day for them. I gave her a little break this time around with some culinary assistance.
Debbie  my colleague from Echo Valley Farm (who is also "raw") demonstrated chicken processing. By this I mean: capturing the chicken, putting the chicken head downward in the killing cone, holding the chicken still, cutting quickly through jugulars on each side to kill and bleed (not so easy), and then plucking and gutting.
Suprisingly, the kids were brave and respectful during this demonstration. And, yes, the students were heavily prepped for this experience and no one was forced to partake. Every student ate chicken for dinner no problem. And all said they would think differently about buying chicken in the market and choose organic!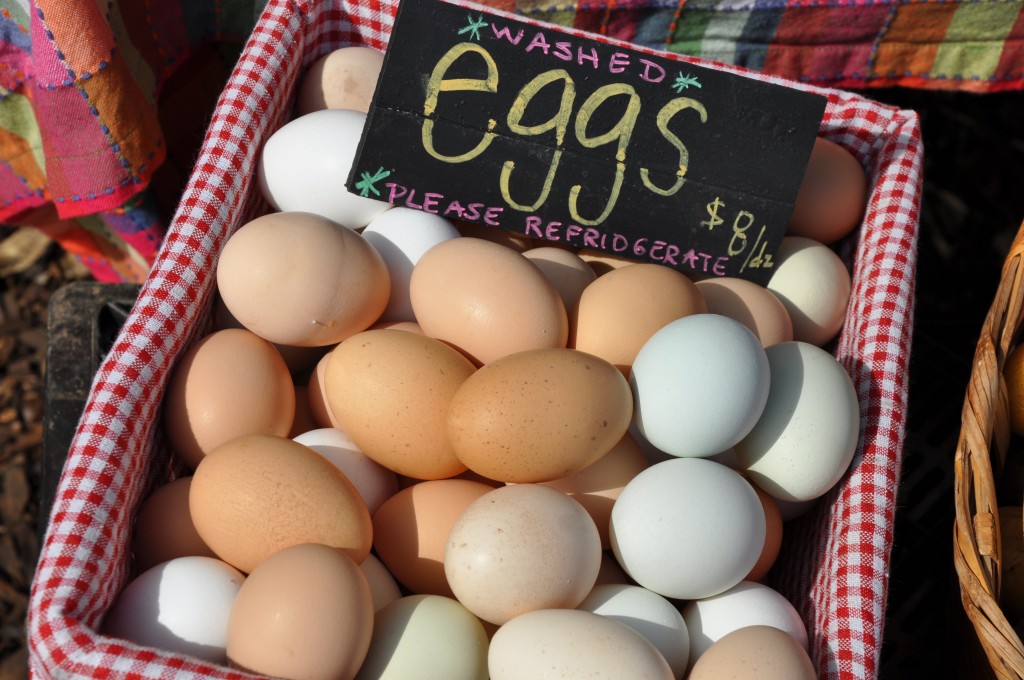 For the quiche recipe, the students collected eggs. Which I found out wasn't so "raw" because cleaning eggs is "sorta boring" and they feared the chickens would peck them. (No one was actually maimed however.) I sympathized with this feeling because I, myself, have the same fear when it comes to chickens. That's not to say that I don't care how they are raised and treated, I just don't find them cute and cuddly like the baby lambs on the farm. (And I will never understand why France has adopted Le Coq as it's emblem.)
Before I wax on about how cool it is to actually be considered cool for a week, please tell me you've heard of Pie Ranch. You haven't? Whaaaaat??!?!
It's a pretty big deal out here on the West Coast. Pie Ranch is a non-profit working farm teaching students and communities about sustainable agriculture & farming, food systems. They do community outreach with schools all up and down the coast, barn dances, weddings, events, team building workshops, they host a CSA & a farm stand, and help newly trained farmers with land aquisition to ensure our future food source in Northern California.
This is a great video. Take a few minutes and check out this slice of Pie. They do so much more there but this is an example of the program…
Their mission is to: "inspire and connect people to know the source of their food and to work together to bring greater health to the food system from the seed to the table".
One of the products grown and milled at the farm is wheat. Hard red wheat that is very low in gluten, has excellent nutty flavor, and high protein. It is outstanding for pies and patries. I have never in my life had pie crust like this – so flavorful and flaky.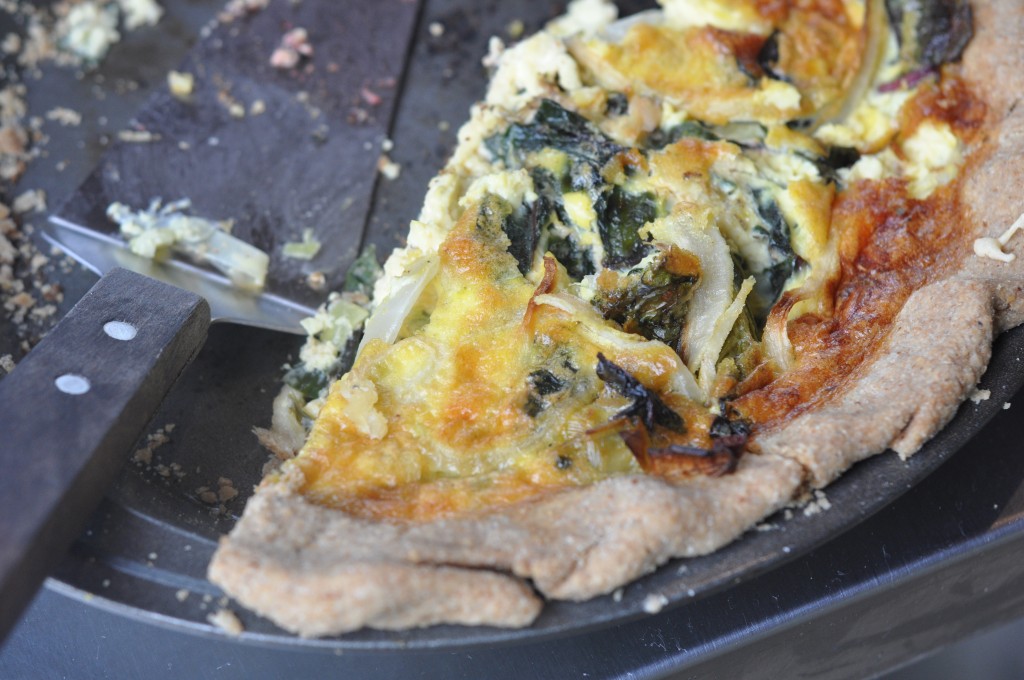 And if flaky pie crust isn't enough for you, it does get better – we light up a fire in the enormous wood burning oven and bake all day and night in it. That's right, quiche Lorraine out of a wood fired oven. Can you smell the smokey bacon & onions gently melting away into a farm fresh egg custard? Thomas Keller eat your heart out! Oh, and that's Pie Ranch Bacon by the way. And Pie Ranch flour. Pie Ranch eggs. Pie Ranch goat milk. Pie ranch onions. You get the idea…
This experience was one of the highlights of this year. I am looking forward to more opportunities like this one.
Pie Ranch is very very RAW.
Pie Ranch Quiche
Ingredients
Pâte Brisée:
1 cup Pie Ranch flour
1 stick unsalted butter
1/2 teaspoon salt
3 to 4 tablespoons ice water
Custard:
4 eggs
1 cup whole milk
½ cup cream
½ teaspoon salt
¼ teaspoon black pepper
pinch of nutmeg
Filling Options (each can be added separately or together):
1 bunch kale, cut into strips and sautéed briefly
¼ cup parmesan cheese
1/3 cup chèvre (goat cheese) crumbled
¼ gruyere cheese shredded
1 yellow onion, thinly sliced & sautéed
2 strips of bacon, cut into 1-inch pieces, sautéed until crisp
1 bunch steamed broccoli
Preheat oven to 425˚F.
Prepare pie shell: In a large mixing bowl combine flour and cubed butter. With both hands press the flour and butter together as if counting money until the mixture resembles small peas.
Pour the cold water over and with one hand continue to mix the dough pressing it against the bowl until it comes together.
Shape into a disk, wrap in saran-wrap, rest and refrigerate for 10 minutes.
Take dough out of refrigerator and roll ¼-inch thick. Place in pie tin and prick the dough with a fork. This will help trapped steam escape. Blind bake, preferably with baking beans or weights, for 10 minutes. Take the piecrust out and add filling of choice to the shell then the custard egg filling:
Blend the custard filling on high in a blender until frothy. Place pie shell back in oven and carefully pour custard into pie shell over dry ingredients.
Lower temperature to 375˚F and bake for 35 minutes or until the center of the quiche is just set.