This is a farmhand favorite because it's bright and beautiful, seasonal, and fits the homestead setting perfectly. I like to set out an array of tartines for guests (toasted baguette open-face mini sandwiches) in varied colors and flavors for casual outdoor appetizers.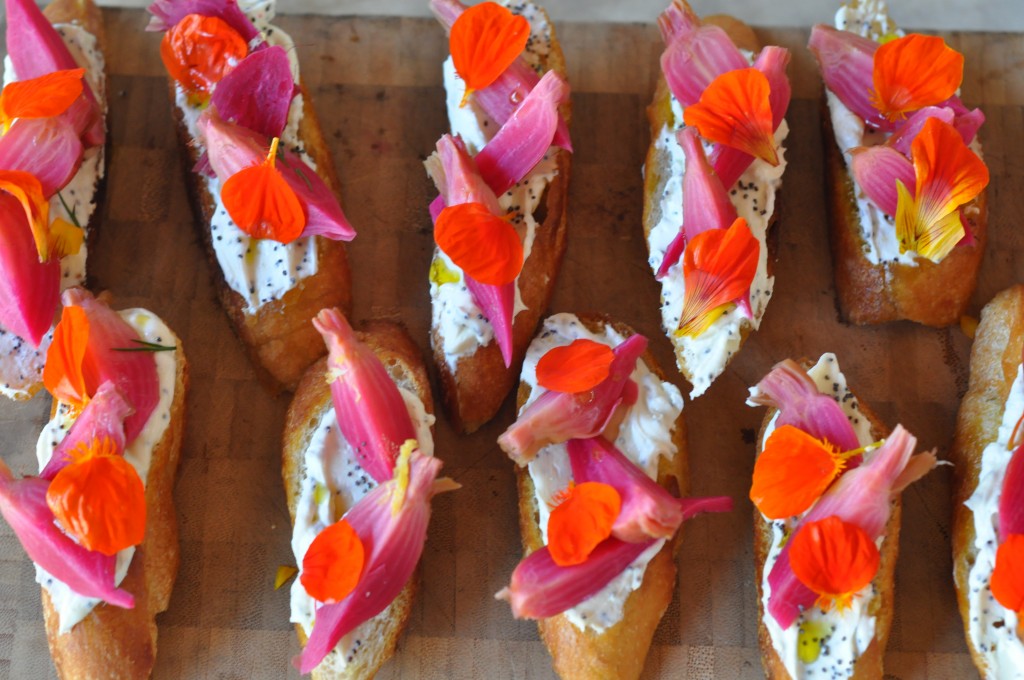 The baby chioggia beets are lightly pickled with apple cider vinegar. And the poppyseed cream cheese has a hint of orange . Tiny sprigs of dill dot the tartines along with a light drizzle of good olive oil.
I save the beet greens for salads or stir fry mixes. They do have a little oxalic acid but they also are packed with antioxidants and I love the hearty flavor. Baby beet greens have less acid than mature plants and can be eaten raw.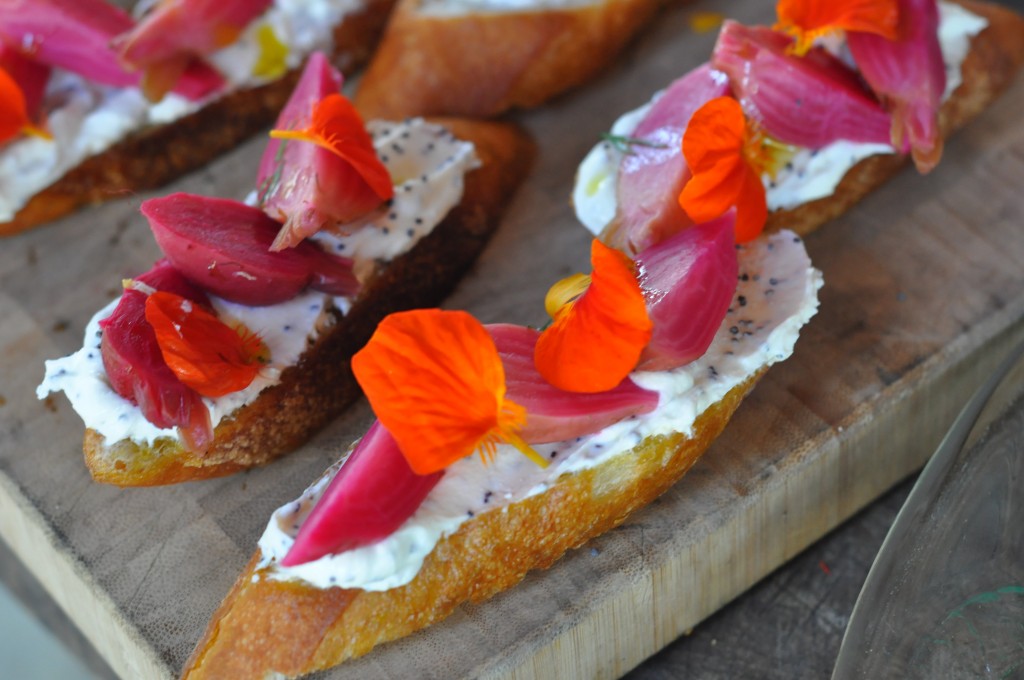 Nasturtiums are a great flower to decorate with and they have a nice – well – flower taste. Hmmm, not sure how to describe the taste of this flower. They taste how they look? Which is to say, good? (Clearly the descriptive Gods are not on my side today.)
The leaves of this plant are edible too. The bigger the leaf the spicier its flavor – in a black pepper sort of way. These leaves are expensive in stores because they wilt after a day or two. However, the plant itself is prolific and will quickly take over a garden. I find that the flowers hold up well if refrigerated and kept dry.
Coming up next: Tartine of Chicken Liver Mousse with Strawberry-sherry vinegar confiture…
Beet & Poppyseed Cream Cheese Tartine with Nasturtium
Ingredients
2 baguettes, sliced on the diagonal brushed with olive oil and toasted in the oven on low heat until crisp
8 ounces good cream cheese (ask at cheese counter, not Philly)
1/4 cup cream
1 tablespoon poppyseeds
1 tablespoon orange zest
2 bunches baby chiogga beets (red or yellow can be used or a combination, but cook separately, the colors run)
1 cup apple cider vinegar
1 cup water
Sugar and salt to taste for the pickling brine (around 2 tablespoons each but taste to your liking)
1 tablespoon each: yellow mustard seed and coriander seed
6-7 nasturtium blossoms (hard to find in grocery stores, ask neighbors if you're not growing them already....)
2 sprigs dill
To make poppy seed spread: let the cream cheese come to room temperature and whisk gently with cream until it is smooth in texture and easy to spread. Add poppy seeds, orange zest, and salt to taste. Refrigerate until ready to use.
Wash and trim baby beets, reserving leaves for another purpose, and simmer gently in pickling mixture with spices, salt, and sugar until just tender when pierced with the tip of a knife. About 5 minutes. Cut in half or quarters as desired for presentation. If the beets are a little older than 'baby' then gently scrape the skin off with the blade of a knife, otherwise they should be fine unpeeled.
Spread cream cheese on toasted baguette with pickled beets arranged on top. Decorate with dill sprigs and nasturtium petals. Drizzle olive oil over lightly. Serve on a bed of nasturtium leaves.