Chicken liver sounds a lot more elegant and tasty in French. Doesn't foie de volaille sound pleasant? Like you might actually give it a go even though you don't know what it is? This summer tartine appetizer of chicken liver terrine with homemade strawberry-sherry vinegar jam and just picked strawberries is delicious.
One of the guests who I overheard saying with a distrustful tone: "Well, I've never tried chicken liver before…" was happily surprised with the combination and I didn't see any go to waste. And no, I was NOT standing next to guests, glaring at them, with my extra large sharp chef's knife in hand….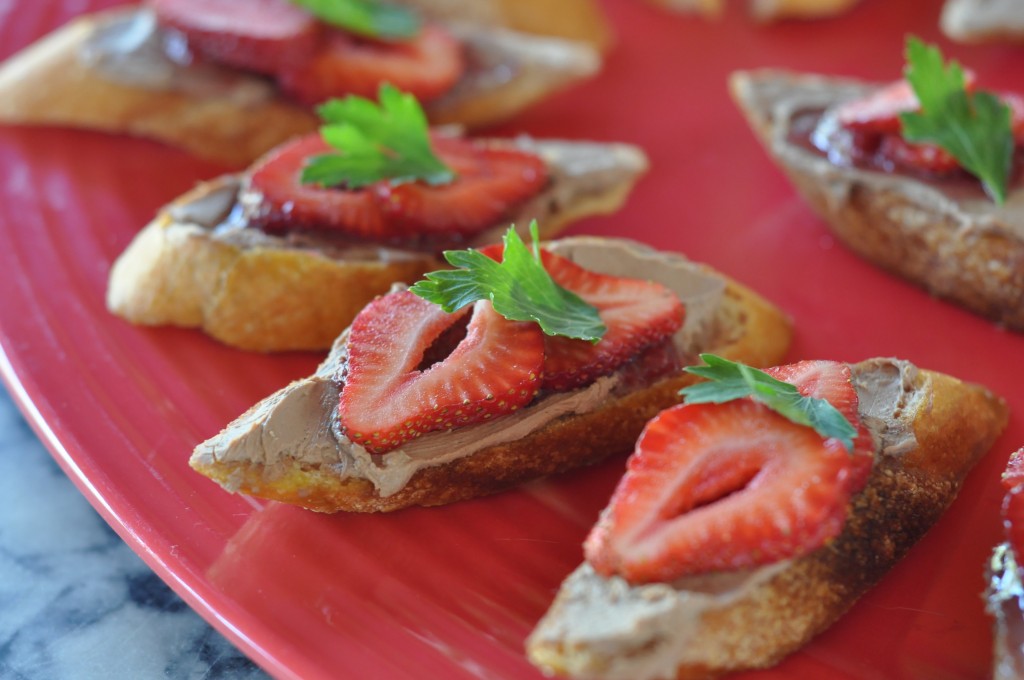 Add this with the pickled beet tartine previously posted and you have some nice easy farmhand casual starters that go with both red & white wine or even rosé! Or why not break the bank and bust out the Champagne? There's got to be something to celebrate!
Although I love to can jams and make terrines, both of these were made for immediate consumption. This 'terrine' will last up to a week refrigerated and the jam will stay good for at least 2 weeks but they are not pasteurized.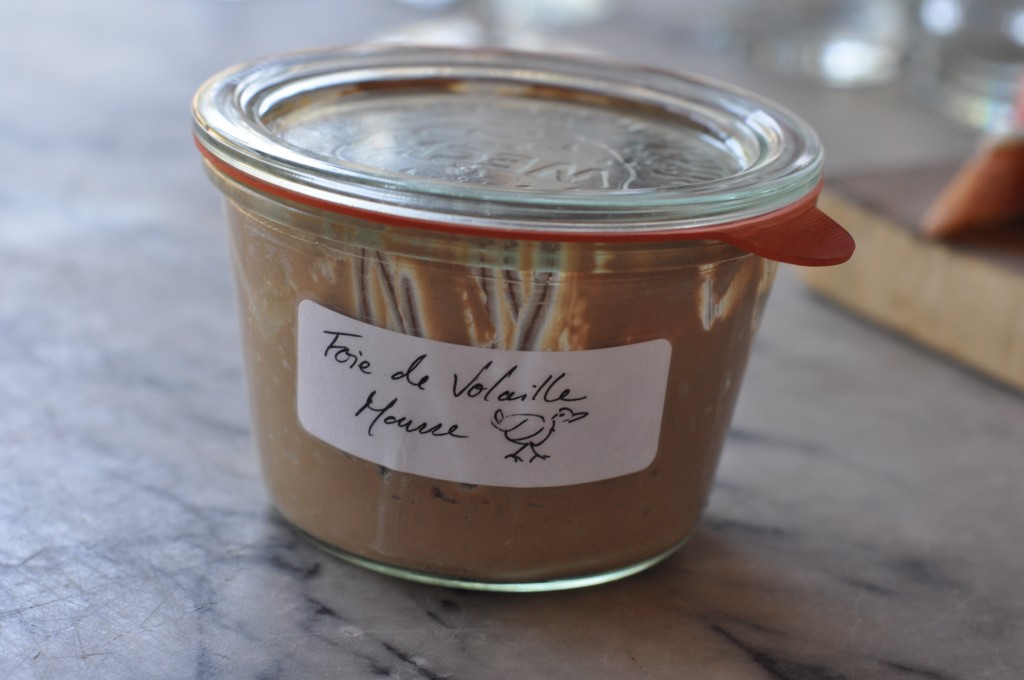 Chicken livers are one of the last remaining butcher cuts that are still cheap. Remember 20 years when no one had heard of flank steak and it was around $3/pound? Ha! Not anymore! I guess people still are little squirmish about chicken liver since it is considered offal.
What to look for when buying liver: check that they are dark red to pale reddish-brown in color, firm but floppy in texture, and have a fresh smell. If you smell amonia then walk away quickly – that's a bad thing. Also, if there is any greenish or yellowish liquid on them, this is normally a sign that the gall bladder has popped in the butchering process and comprimised the offal and potentially the meat too.
Cooked right liver is fantastic – all liver. Cooked wrong, they taste livery and disgusting. Luckily they are easy to cook right. Here's how no matter what the type of animal: heat a non stick or seasoned cast iron pan with a tablespoon of canola oil (you can use olive oil too but it has a lower smoke point), when it begins to shimmer and smoke sear liver hard on both sides, then deglaze pan with the alchohol you are using (port, brandy, cognac, raspberry vinegar (my fav for veal liver), a combo, white wine, whatever).
If creating a cream sauce – as in this recipe – add cream straight to the pan right after the alchohol has burned off and let it reduce quickly. This should all happen in about 1 minute so keep that flame on high! The goal is not to boil the liver after searing it, but to infuse the sauce with some extra flavor before decanting.
Because this is a faux terrine and it is not cooked in a water bath or sealed with duck or chicken fat on top, as is the tradition in France; I sear my livers, make the cream-brandy pan sauce and, in a vita-prep blender, mix all until smooth with some extra chunks of cold butter. Then spoon it in a pretty jar and refrigerate.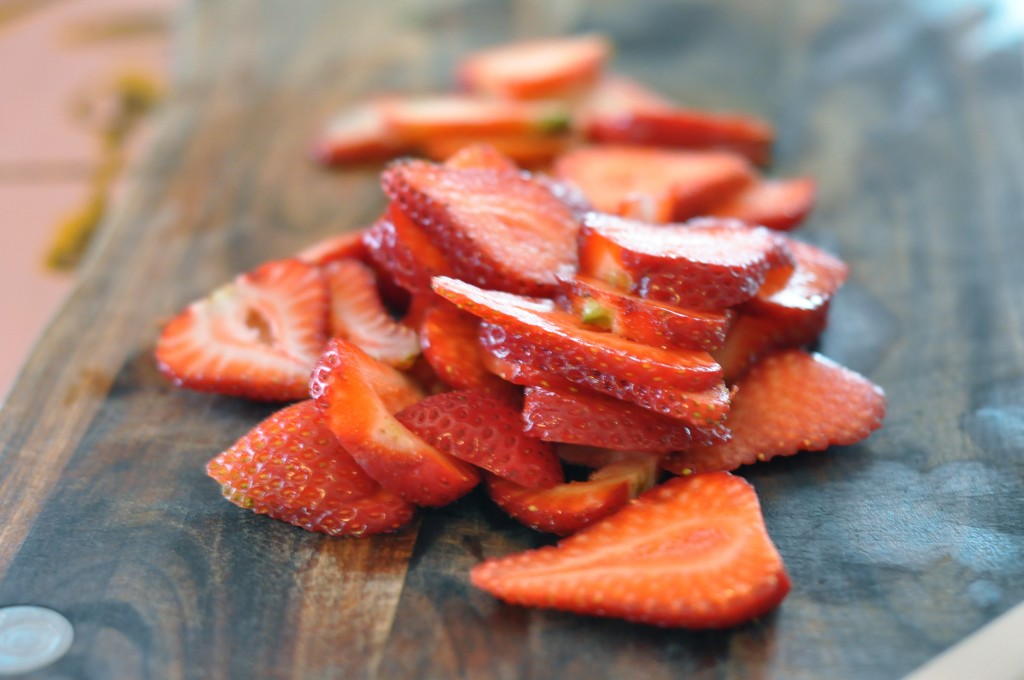 Making quick jam takes about 10 minutes if that! I use 1 pint of strawberries to a 1/2 cup of sugar and let them cook down on the stove top on low. When the strawberry juice starts to run I crank up the heat to high and boil until desired consistency. A splash of sherry vinegar at the end adds acidity and works well with the chicken liver terrine.
If you have never had liver before. This is a good starter recipe. They are a great source of protein (one chicken liver containing around 25 grams) and also high in Iron. I don't know if that makes them any more edible, but I find chicken liver to be mild in flavor and great with wine – a good appetizer!
Chicken Liver Terrine Tartine with Strawberry-Sherry Vinegar Jam
Ingredients
2 baguettes, sliced on the diagonal, brushed with olive oil and toasted in a slow oven until crisp
1 pint of strawberries
1/2 cup granulated sugar
3 tablespoons sherry vinegar
12 chicken livers
1 -2 tablespoons Canola oil
2 shallots, finely chopped
4 springs fresh thyme, chopped
1/2 cup cognac
1/2 cup cream
6 tablespoons good butter, unsalted
salt and freshly ground pepper
For Chicken Liver 'Terrine': Clean livers by removing any connective tissue with a small pairing knife. Try not to puncture the liver in the process, they are best cooked whole. Heat on high a non-stick skillet or seasoned cast iron skillet (my preference for this) with 1 to 2 tablespoons of canola oil to coat.
Season livers generously with salt and freshly ground pepper on both sides. When oil begins to smoke, sear livers on each side for 30 seconds. Then add shallots and thyme, and cook for another 15 seconds. Deglaze pan with cognac. When the alcohol has burned off, approximately 20 seconds, add cream and reduce by half. Remove livers and let cool. Scrape up any brown tasty bits with the cream sauce and pour into blender to reserve for mixture.
When livers are cool blend in a blender with the pan sauce and butter until smooth. Taste and season with salt and pepper. Spoon into a jar and refrigerate until ready to use. This should last a week refrigerated. For the French terrine 'look', melt butter or duck fat and pour over the top before refrigerating.
For the quick strawberry jam: in a small pan place strawberries and sugar and mix to combine. Cook over low heat stirring occasionally until the juice starts to run then turn the heat up to high and boil until desired consistency is reached. Add the Sherry vinegar at the end, spoon into a pretty jar, and refrigerate. This should keep for 2 weeks.
To assemble: simply smear chicken liver terrine onto the toast, place a dollop of strawberry jam in the middle with a few fresh cut on top. Enjoy!