Yes, over half the country is experiencing record freezing weather, while we spoiled Californians are lying out on roof decks sun tanning and enjoying the BBQ. Here's a recipe for pork spareribs that is oven baked and sure to make you feel the sunshine regardless of whether you are finger lickin' inside or out.
And regardless of which football team you are rooting for (I'm assuming that you are going for Denver because we all know how Seattle robbed SF in that last game and those flippant remarks to Crabtree were totally un-sportsman like. And the fact they blocked Californians from buying tickets from their should-be-illegal-stadium was and is ABSURD!)
These ribs were prepared by my culinary students for a Pescadero Farmer Appreciation dinner but we unanimously agree they would be great for the Super Bowl. We cooked and served a 4 -course meal consisting of all local ingredients: celeriac soup with seared scallops & bacon, bitter greens with winter citrus & fennel, spareribs with guajillo BBQ sauce, smashed rutabega, buttermilk biscuits and sautéed swiss chard.
The swiss chard being my addition of course, none of my students would voluntarily vote for this vegetable although several admitted it didn't taste that bad. We finished the meal with homemade apple empanadas with vanilla ice cream and cajeta sauce.
I am exceptionally proud of their hard work and continual joy &  laughter they bring to each and every class which makes me feel young and reminds me of why I first came to this profession. And I am always super impressed with their professionalism and ability to focus under pressure whether we are serving our community at the farmer's market or catering small and large parties in the county.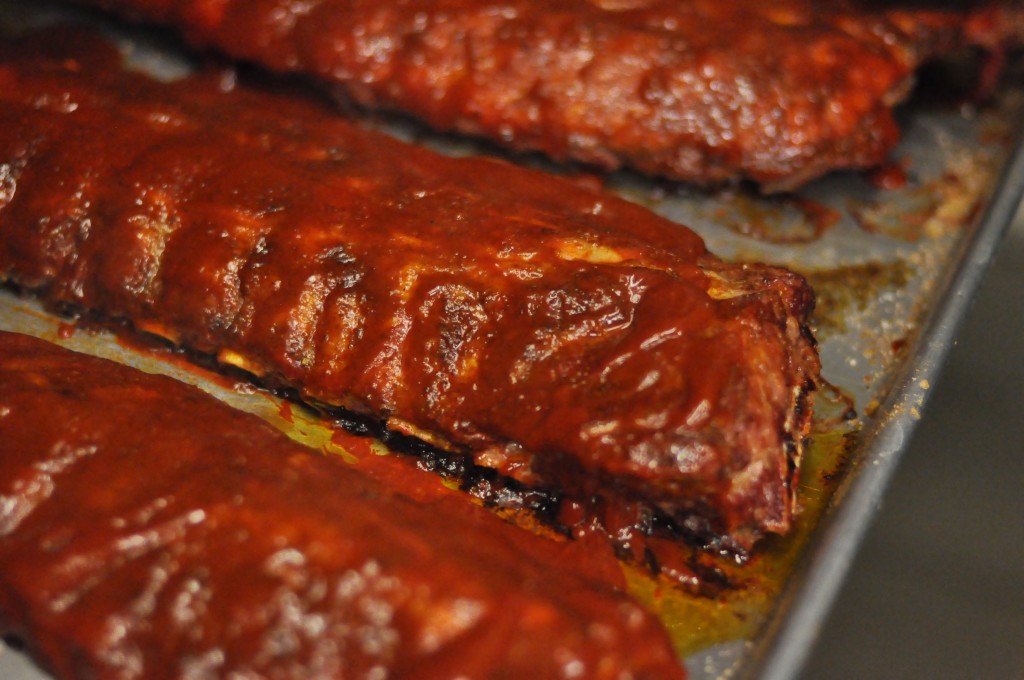 We plated everything pretty for our guests but for ourselves we served up spareribs in craft paper trays which would be easy to do for a Super Bowl party (even if you are a Seattle Seahawk fan) and would require little clean-up.
There were plenty of smiles to go around, and a lot of nodding while eating – a silent but expressive admission of pure delicious success.  The students think the BBQ sauce is killer and yes, we do sell it at the market so look for it this Spring at the Pescadero Farmer's Market and maybe online if we ever get computers (hint, hint) donated to our class.
We hope to see you at our stall at the Pescadero Farmer's Market coming up this Farm season! Or perhaps for one of our Farm to Table dinners showcasing our local organic farms. Dates to be announced and, as always, dependent on when the growing season starts this year. Looks like it's going to be an early one….
Puente's Edible After School has been written up in Edible Magazine and other local publications including the Halfmoon Bay Review. Our program has existed for two years through sponsors like the Packard Foundation and private donors but we are ever growing and expanding and looking for help to buy ingredients, pay for kitchen rental, and buy computers so that we can add technology to our class and create an online teen-run cooking program where we post recipes and also manage an online store selling our jams, pickles, and grab n' go market items. Would you consider a donation to our program to help us continue teaching practical Math & English, Nutrition, basic & intermediate cooking, food safety & handling, teamwork and leadership?

Super Bowl Spareribs with Guajillo BBQ Sauce
Ingredients
THE RUB RATIO:
8 tablespoons sugar
4 tablespoons Kosher salt,
4 tablespoons cumin seed toasted and ground
2 tablespoons coriander,
2 tablespoons smoked paprika
4 tablespoons Mexican oregano, crushed
GAUJILLO BBQ SAUCE:
2 ounces pasilla chilis, stemmed and seeded
4 ounces guajillo chilis, stemmed and seeded
2 ouces ancho chilis, stemmed and seeded
1/3 cup apple cider vinegar
1 small head garlic, roasted in the skin and peeled
2 pounds ripe tomatoes, roasted whole
2 pounds yellow onions, roasted with tomatoes
3 teaspoons kosher salt
3 tablespoon dried Mexican oregano
4 tablespoon toasted cumin seeds
1/4 teaspoon ground cloves
1/4 teaspoon cinnamon
1/2 cup brown sugar
5 limes, juiced
MEAT
2 Pork Spare rib racks about 3 pounds each
THE RUB: In a small mixing bowl whisk together the dry rub mixture. If pork racks are not trimmed go ahead and pull off the membrane and trim the fat. But leave on at least a 1/4-inch of fat because that's going to get all caramelized and chewy and sticky delicious with the sauce. Place racks on baking sheets and generously season with rub. This can be done a few hours beforehand.
THE BBQ SAUCE: Place tomatoes, onions, and garlic in a shallow roasting pan. Drizzle lightly with olive oil. Roast on 500˚F until the tomatoes are blackened and bursting. Cool roasted vegetables and pop garlic out of skins. Set aside to blend with the chilis.
For the dried chilis: de-stem and de-seed the chilis careful not to touch your eyes while doing this. Neither chili is that hot to the taste, but they will still burn your eyes. In a dry cast iron pan lightly toast the chilis until fragrant (not until smoking point – you will start choking) and rehydrate in warm water. When chilis are plumped up blend thm on high with the tomatoes, onions, garlic,  and spices. Feel free to use the chili soaking water to help with the blending process if the mixture is too thick – it adds great flavor!
THE PORK SPARE RIBS: the best way to cook spare ribs is low and slow. Even though they can be cooked fast the fat won't render properly. Heat oven to 250˚F and cook rib racks on a baking sheet for 45 minutes. Once fat starts to caramelize and get chewy turn up the heat to 375˚F and brush ribs with BBQ sauce. Feel free to slather the sauce on as much as you like. The ribs are done when the meat falls off the bone, but they are still juicy. If you want to add smokiness to the ribs, take hickory chips that have been soaked in water and place them in a tin foil packet. Poke packet with a knife tip all over and set on an oven rack under the ribs.
Cut ribs in between the bones or serve in sets of 2 or  4! Enjoy!