Hon, hon, hon! I have not written a restaurant review for Paris for years now. But I receive requests daily about where to go and eat.  I want to politely defer to Paris by Mouth and David Lebovitz since I no longer cook in Paris and I'm just a regular old tourist nowadays with a very BIG opinion. But I do have some great finds from my last trip…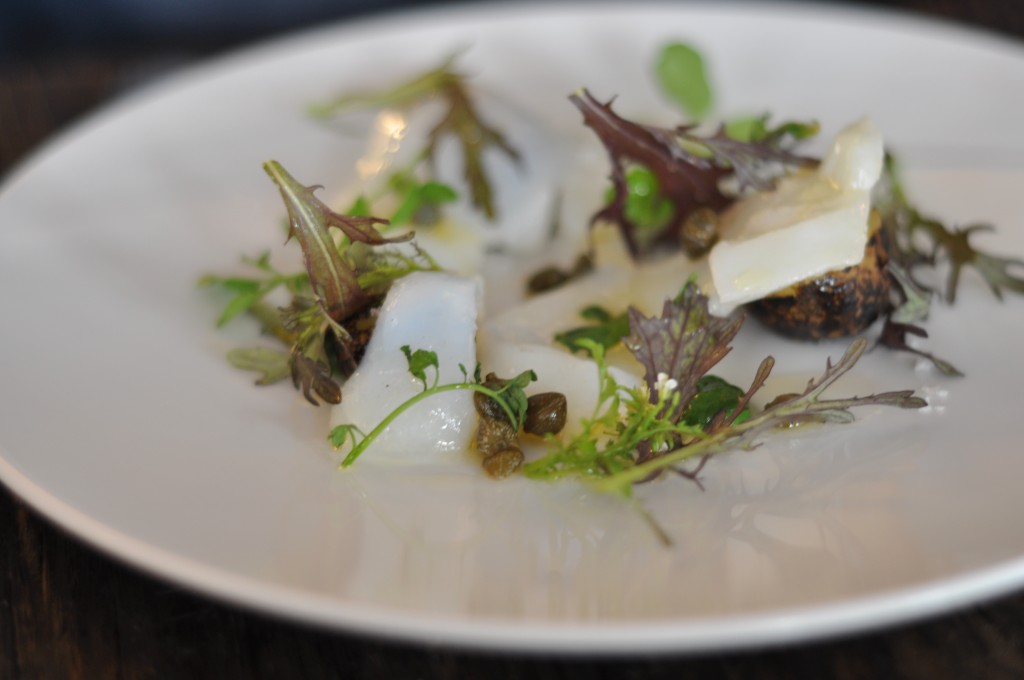 Why the big opinion? Because I cooked for Guy Savoy in Paris and Le Bernardin in NYC and I always relate everything back to that level of quality. And I know and love French Cuisine. And I know a lot of food is plain mediocre in Paris right now.
I booked my reservation for Septime two months in advance for lunch. FOR LUNCH! I told my husband that I was not going to drag him to 3-Michelin star restaurants but instead to the restaurants where new young chefs were touting Michelin-star pedigree with a Michelin star quality dining experience for a fair price in a more casual trendy-chic environment.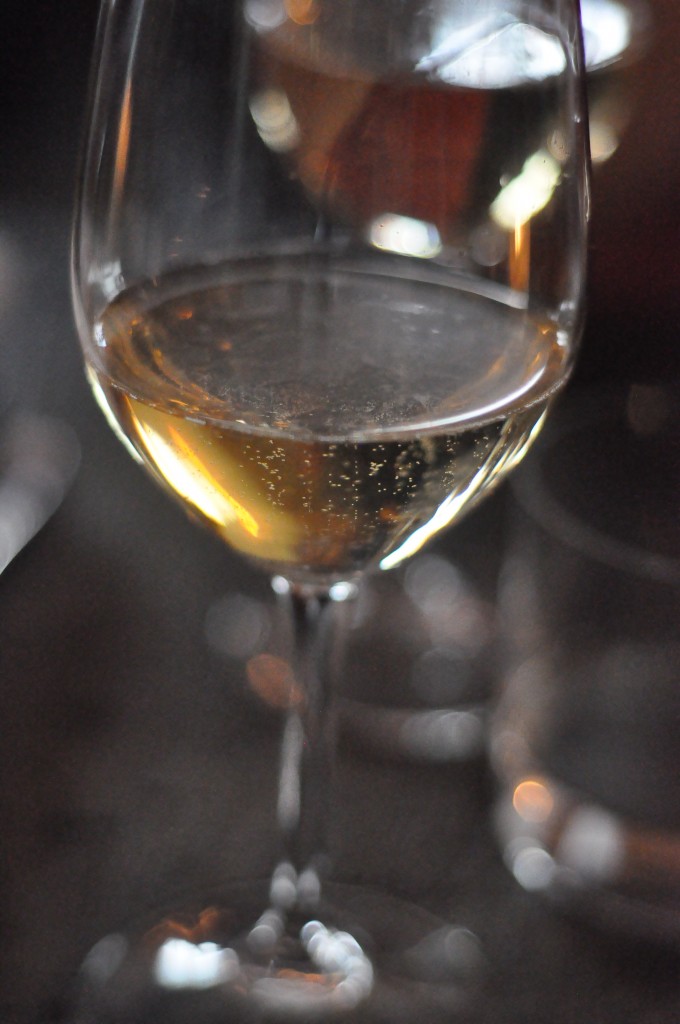 I arrive at Septime – for lunch– in the 11th on rue Charonne which is becoming more upscale by the day but it still manages to retain its artisan eclectic funky past. My husband and I are greeted at the door by the Maître D with a genuine smile rarely given over so easily in Paris. We relax. We feel like we're in a San Francisco restaurant because the design is sleek with an industrial edge and open kitchen.
We are seated at a table that faces the kitchen. And my chair directly faces the Chef. I like that. Hey, that's why I came – I wanted to see the kitchen and the new chef who is changing the stuffy old regime. But perhaps this was not a good idea because I am totally engrossed in everything happening. And the fact that the Garde Manger Chef de Partie is continuously biting her nails in between plating dishes is driving me absolutely crazy.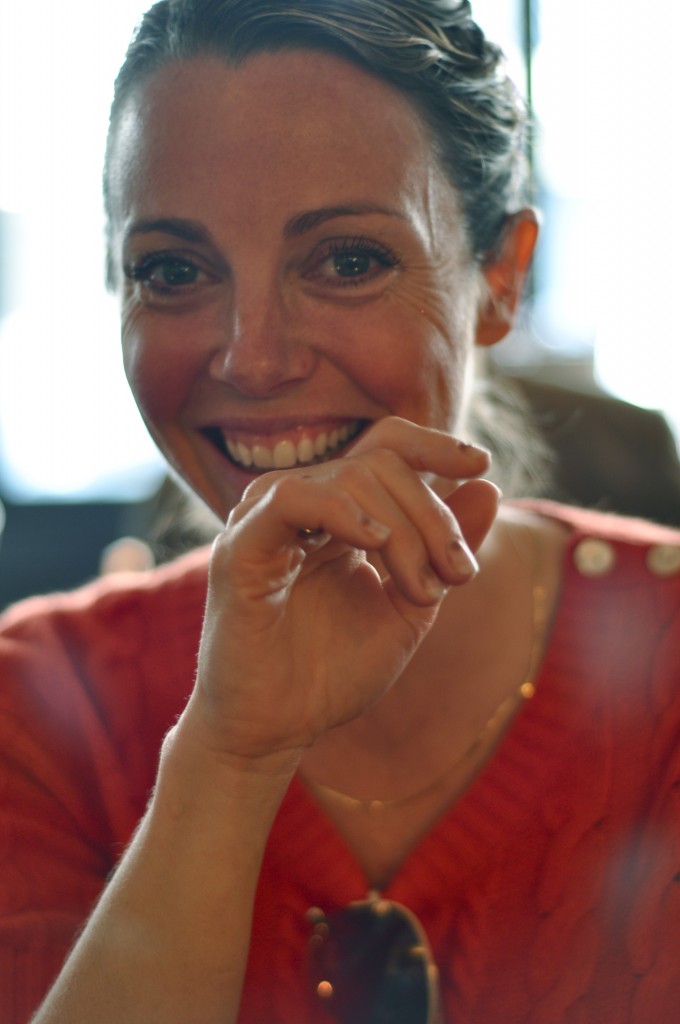 She catches my eye, drops her hand immediately, then puts it back in her mouth again biting furiously, until I catch her eye again. I get the feeling she is amped on adrenaline and new to the profession. But it's an open kitchen…
Whatever. Let it go. You came here to enjoy…
The Sommelier comes to our table and his air of hospitality is praise worthy. We have decided upon the Chef's tasting menu (well priced – a bargain actually) and we would like wines to match but not for every course because we don't want to leave drunk. It's lunchtime afterall. The sommelier brings new glasses of wine only after we finish the previous. It's casual. His suggestions are new to me, excellently priced, and pair flawlessy with the dishes.
The food is very French. Meaning: delicate and organic in presentation and artfully layered & earthy in flavor. Suprisingly, the first course is a disaster. I find a very alive worm in my fresh bacalao fish starter. I alert the server. I explain that I understand this happens to her in French, but please, take it away.
I cooked fish at Le Bernardin. We would go through over 800 pounds of fish a day. I have had the opportunity to work with many, many different sea creatures. I know mistakes happen, but this one was one that should have been caught.
The server brings it to the chef and I am watching this conversation between the two from my chair. The server returns to me and attempts to try and explain why this was no big deal. I'm shocked. How do you not find a 3-inch wriggling roundworm in a hand flaked piece of lightly cooked cod that is no bigger than 1/2-inch in thickness? I found it because I saw the large brown dot in the center of the fish flake that always signals a worm is there.
If the Garde Manger Chef de Partie was paying more attention to her dishes than to her fingernails, perhaps this mistake might have been avoided.
There is no reason why I should have to give up my credentials in order to get a simple apology and move on with the meal. Just because I'm American doesn't mean I'm stupid. The correct response to a customer, no matter what the country, is not to tell them the mistsake is 'okay' or 'normal' and then argue with them over whether it is or isn't. The correct response is to remove the offending dish. Apologize. Bring out the next dish. Apologize again. Bring out extra wine. Comp the meal. And hope that they don't write about it like I'm dong right now.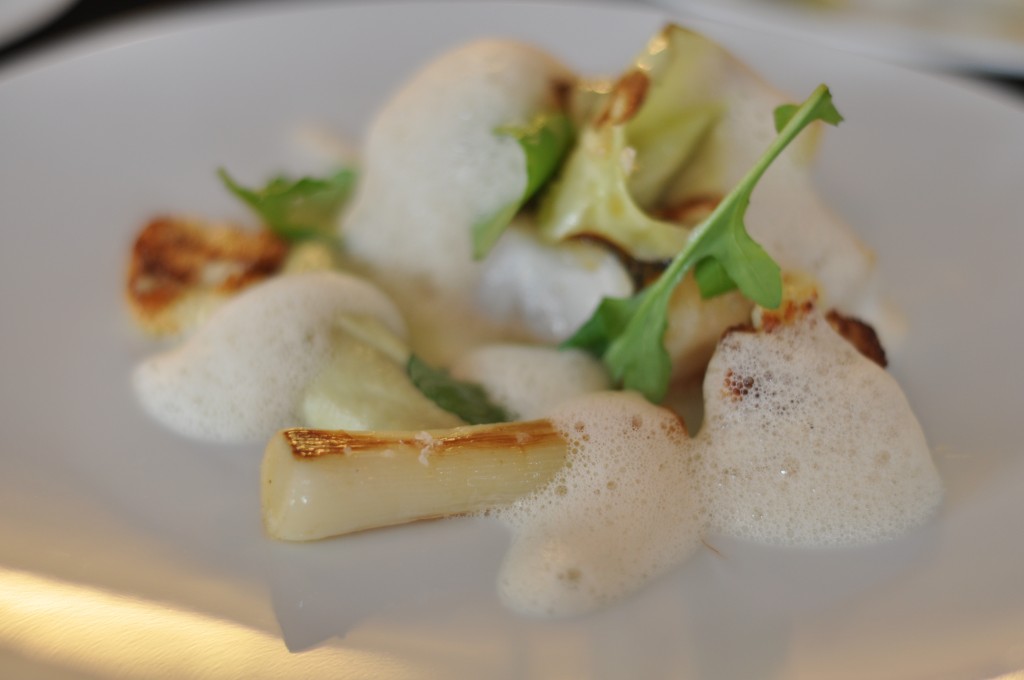 I'm upset. My husband grabs my hand and asks if I want to go. I pull myself together. I have been looking forward to this meal for months – everyone said it was a fantastic restaurant. But I wasn't expecting to have an argument over something so ridiculously not okay and then have a server attempt to tell me that I'm pretty much an idiot. I'm insulted. It's not about the worm – that's a natural occurance and a trained eye knows what to look for – but I'm furious over the server's response to my complaint.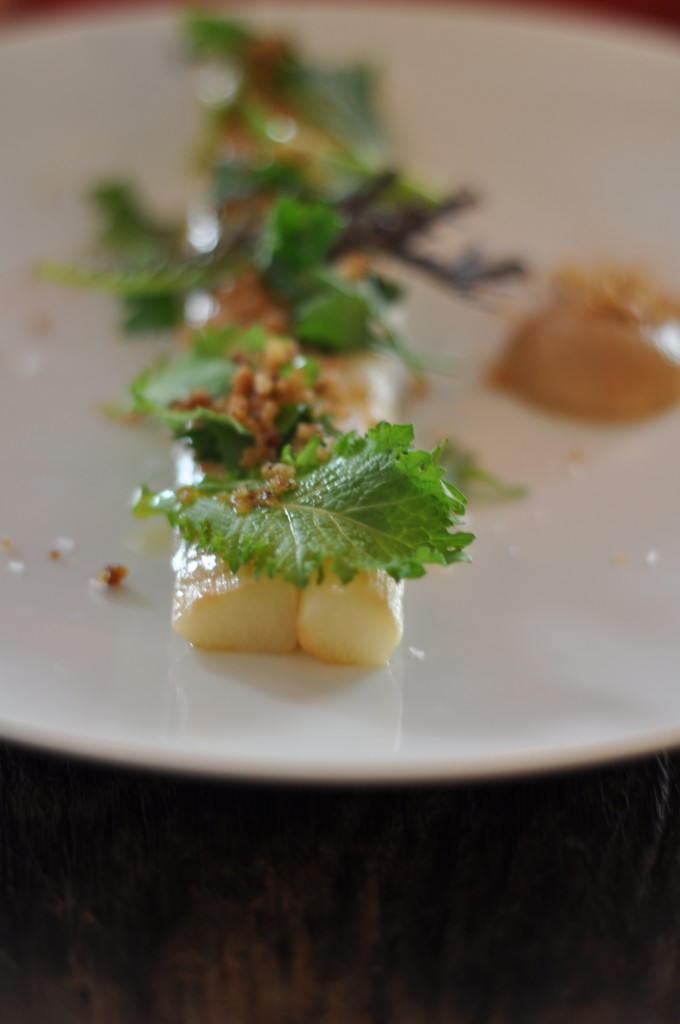 The Maître D takes over our table for the rest of the meal which is a relief. The kitchen sends out a free dish that is tasty and beautiful to replace the last one. The Sommelier brings out new pairings. Septime is rebounding well.
We quickly get over the first course and move on to the next which is a divine plate of fat sweet & juicy white asparagus cooked perfectly. I could eat this all day. Pretty little leaves of mizuna decorate the dish and the garnishes are seemingly simple but I know otherwise…
The next course is a perfectly poached farm fresh egg set in a shitake mushroom broth. Earthy and delicious. Simple and satiating…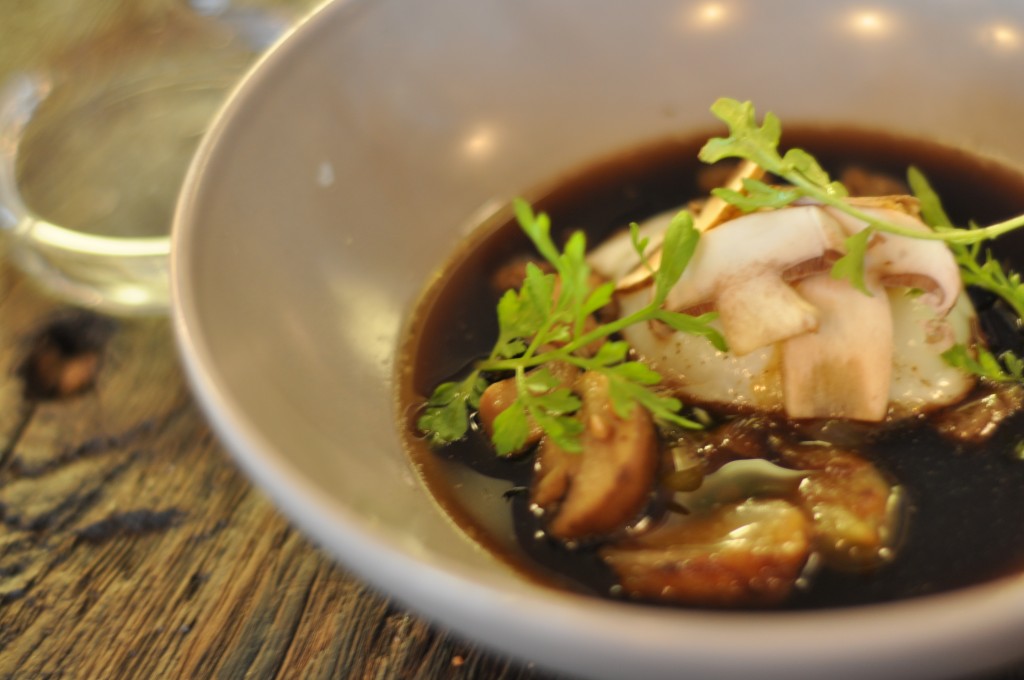 The main course is lamb cooked three ways. The dish is successful. The lamb parts are prepared using different techniques: sous vide, braised, cured. Again, the chef has proven his skill. He does not draw attention to the effort involved, instead the plate feels organic as a whole and nicely decorated with baby root vegetables and more mizuna leaves. (Okay, what's with all the mizuna?) No part of the dish outshines the other. It's harmonious.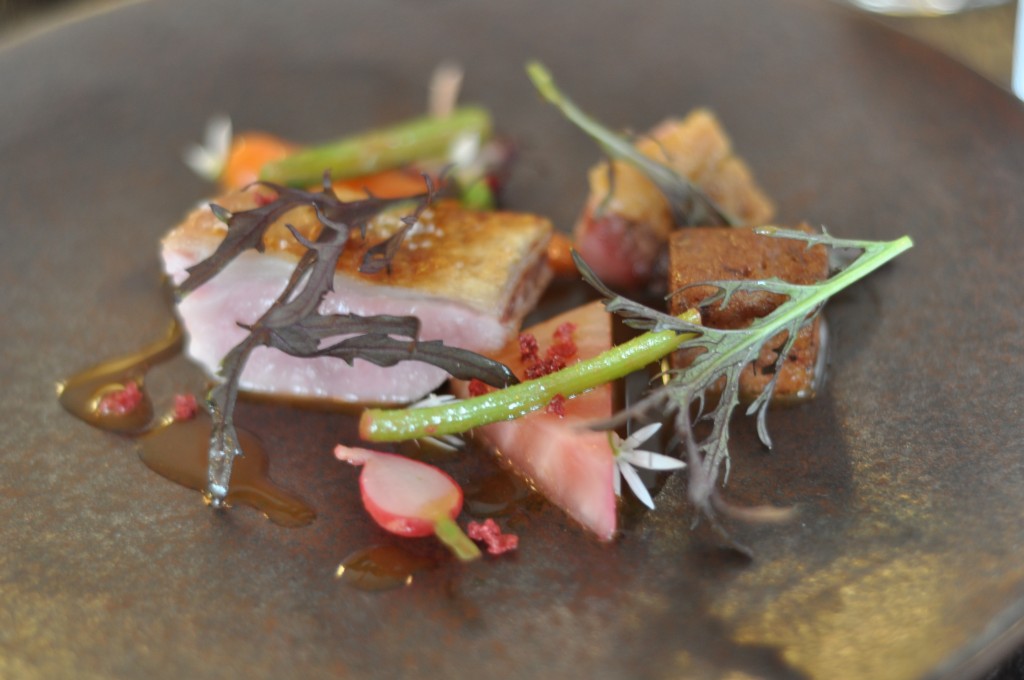 My favorite dish of the tasting menu is the dessert. This is often the case for me because by the time I get to the last course I'm pretty soused and the only parts to the meal I can recall the next day are all the mistakes that were made and the last dish. I like dessert so I often leave feeling that everything was great!
It's unusual to find English style crumbles in Paris but that's just what this is, an apple-rhubarb crumble with a perfectly coiffed scoop of the most amazing 'hay' flavored vanilla ice cream. I love the dairy products in France – they are sooo good. This hay flavor is unusual and a great balance to the crumble and the tart-sweetness of the apple & rhubarb combo.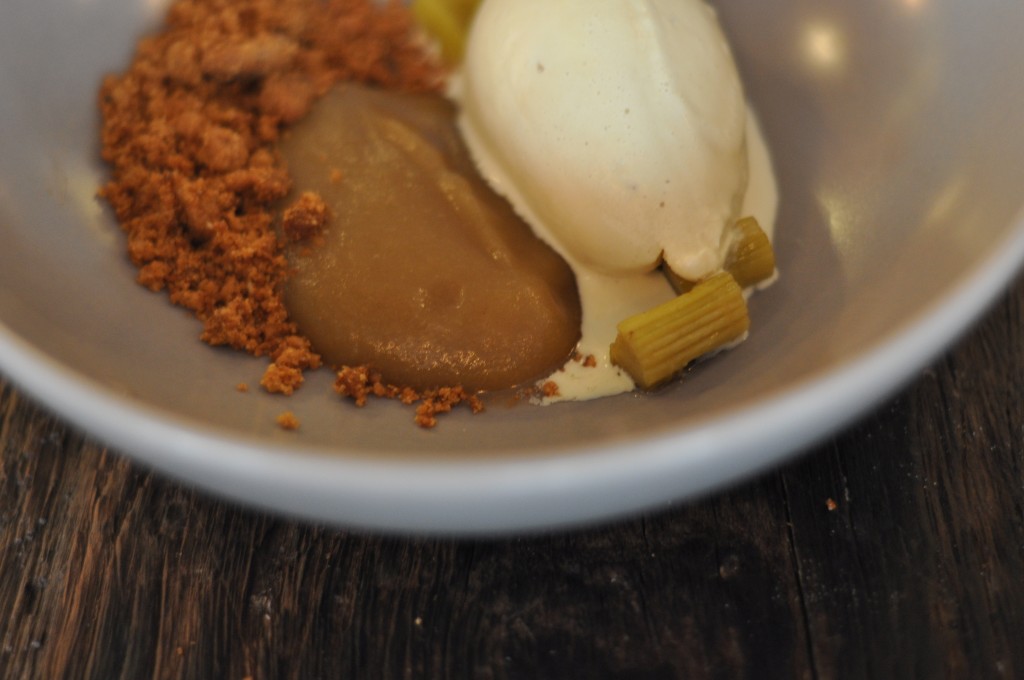 The Maître D brings our check. They have taken off my meal which is the right thing to do. He clearly has a degree in hospitality and I appreciate his demeanor. He bends over to me and whispers: with your background you know better, that should not have happened, we are very sorry and hope that you will join us again.
We leave a generous tip covering the amount of the tasting menu anyways. Mistakes happen. Wrongs are righted. The food was beautiful, healthful, organic, and with the exception of one dish prepared by one very new cook – harmonious and excellently executed.
Food is a natural product bound to have imperfections. If it doesn't then it's genetically engineered, right? And we are only human. What separates good restaurants from bad is not necessarily the food itself but the experience as a whole.
We'll be back!