You can't end a dinner at Pie Ranch without pie now can you? The raspberries are bumpin' and the rhubarb is crisp, red, and fat right now. It's rhubarb-raspberry pie time!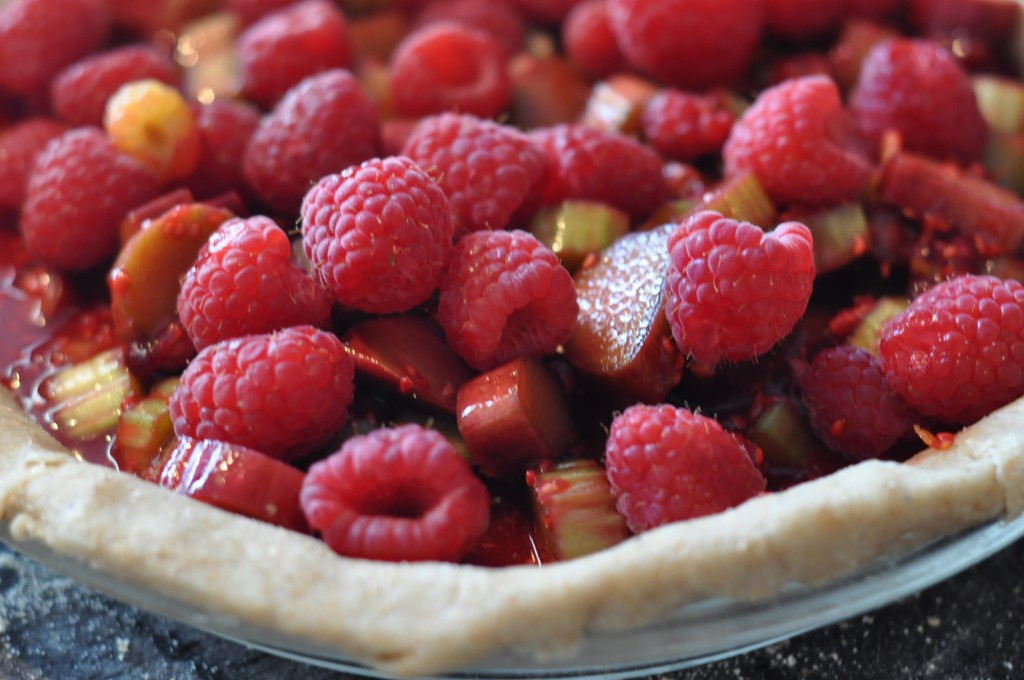 This was my finale for a dinner for Google Executive Chefs who flew from all over the world to lend their support to Pie Ranch and their mission to educate communities  & youth about food systems, sustainable agriculture, and land acquisition for new farmers.
Believe it or not Google has a strong committment to sustainable agriculture. They are extremely proactive about the produce and proteins they serve and they have created their own standards that are higher than the norm – including the Monterey Bay Aquarium's sustainable fish watch list. They will be hosting Pie Ranch's upcoming Benefit Event if you are interested in tasting some Google haute cuisine, tickets are on sale (running low – hurry!) for $200 a pop. The event includes: food, wine, pie, barn dance, charity auction, fun – come!
ALL THE PROCEEDS GO TO PIE RANCH!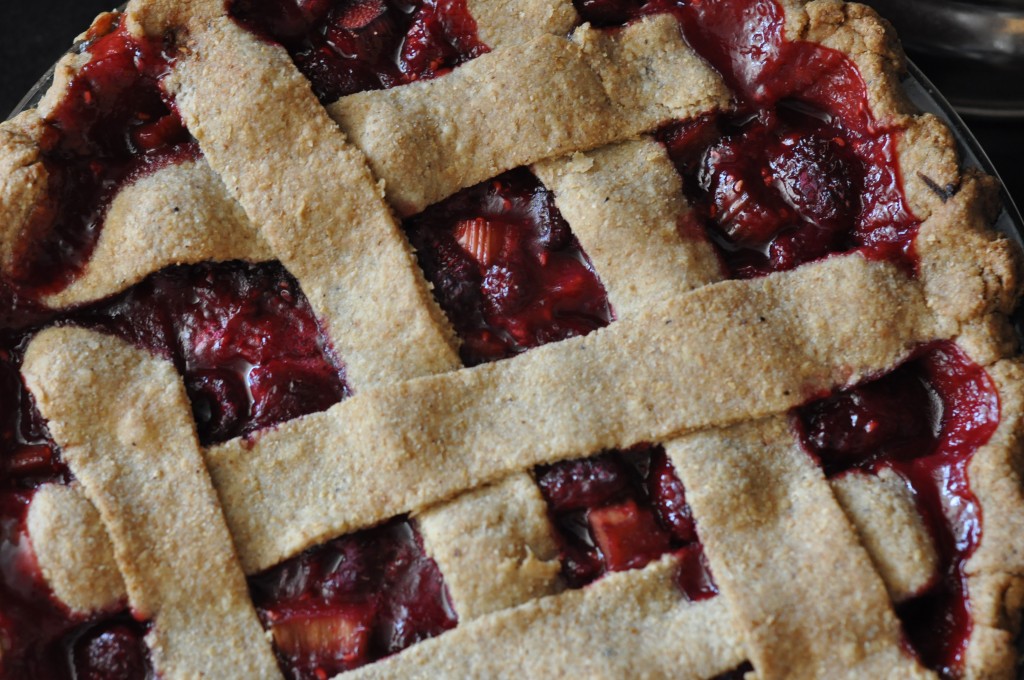 Pie Ranch is a huge working farm. It's a very exciting place to be. It's a great place for learning on many levels whether you are a farmer interning after college or a student from one of the Bay Area's schools learning how to harvest, grow, and process food.
Okay, back to this pie – it was a huge hit. I got some fantastic reviews and one comment in particular that was most flattering and a little embarrassing: "This is better than my mother's signature rhubarb pie and she is probably rolling in her grave for me saying this to you right now…".
Now before you go thinking I'm bragging; the deliciousness of this pie had nothing to do with me. What makes pies at Pie Ranch special are a few things. For starters they grow and mill their own Sonora flour and it is low in gluten which is ideal for pastry. The whole wheat flour makes crisp flakey crust, and it has a wonderful subtle nutty flavor which I've never experienced even with the best organic flours. The flour was milled the day of – super fresh!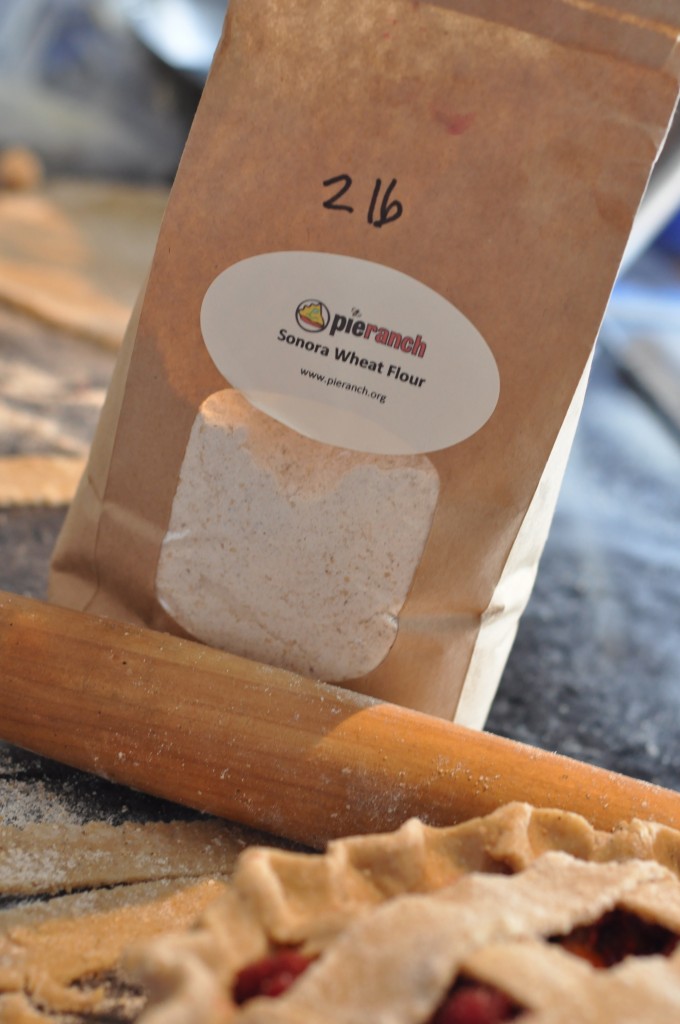 Secondly when I cook for there, I cook outdoors. (like camping – no joke here ).  I bake in a wood burning pizza oven that takes about two days to really get going. So, you can imagine all that wood-fire aroma just infusing right into that crust … yummm….
And thirdly, the farmers harvest the day I'm cooking. When I show up, the produce is waiting, picked at the peak of ripeness. Does it get any better? My job is easy – all I have to do is put a few simple ingredients together et voilà!
Chef's notes: be light-handed with the thickening agent (arrowroot, cornstarch, tapioca, or whatever you prefer). I like this pie a little soup-y, almost like a cobbler. When you cut slice into it, a nice rich magenta juice should run at least a little bit.
The pie crust recipe is for Pie Ranch flour and it holds up well with a filling that is not overly gelatinous. If using regular all-purpose flour, the butter to flour ratio will be too high and you will probably end up with a ball of goo. In this case increase the amount of flour by 1/2 cup and the cornstarch to 3 tablespoons.
Rhubarb Raspberry Pie
Ingredients
2 cups Pie Ranch Sonora flour, plus extra for rolling out (or 2 1/2 cups of All-purpose flour)
2 sticks (8 ounces) unsalted butter
6 to 8 tablespoons ice water
1/2 teaspoon sea salt
1 teaspoon sugar
1 1/2 pounds trimmed rhubarb, diced 3/4-inch thick
1 cup sugar
1/2 teaspoon cinnamon (optional)
2 1/2 tablespoons cornstarch (3 if using all-purpose flour crust)
4 tablespoons lemon juice (I prefer Meyer lemon if available)
2 cups raspberries
Preheat oven to 425˚F
For the pie crust: in a large mixing bowl whisk the flour, salt, and sugar together to evenly distribute ingredients. Using your finger tips, a pastry cutter, or a Cuisinart cut butter into flour. If making by hand, pretend like you are counting money and press the fat and flour together until the mixture resembles small peas. If using a Cusinart, use the pulse on/off button to achieve this. Add water little by little until the dough comes together in a ball.
Divide dough into two balls of equal size. Squish to form flattened disks. Wrap in plastic wrap and refrigerate.
In a medium mixing bowl add diced rhubarb, 1 cup of the raspberries, sugar, lemon juice, and cornstarch. Mix to incorporate and let macerate for at least 10 minutes, stirring occasionally. When ready to add filling to crust add the remaining berries.
Take pie crust from refrigerator and let rest for a few minutes before rolling out to fit the shape of the pie dish. Roll both disks to 1/4-inch thickness. Place crust in pie pan and prick bottom with the tines of a fork. Carefully pour in filling. If desired create a lattice top with the remaining disk by rolling it out to 1/4-inch in thickness and then cutting into long 1 1/2-inch strips. Weave strips together on counter in an under-over style and carefully place on top. Crimp sides and flute edges. Or place a full crust on top and crimp edges and make a few cuts in the top for steam.
Bake at 425˚F for 35 minutes with a baking sheet underneath pie – it will likely bubble over a bit. Then turn heat down to 350˚F and bake for another 15 minutes until crust is golden brown. Let cool completely on a wire cooling rack before serving.
You are going to serve this with vanilla ice cream right!?!?! Yum!