This just in: prickly pears are PRICKLY!!!
Yes, they are aptly named. Can you believe it? Well I couldn't. I was too good for gloves. Too good for tongs. Too good for a regular ol' kitchen towel. I picked 'em right off the ol' cactus bare handed. Boy, was I stupid…
I didn't immediately feel the teeny tiny invisible prickles so I continued to prep the prickly pears cutting away the thick outer skin and roughly chopping the gorgeous magenta flesh.
It was only when I washed my knife and the hot water hit my hands, that I felt the sting. Not just a sting, but a burn that ran through my fingers, through my palms, through my wrists. So let this be a lesson to you: wear gloves when you hold these bright pink flirtatiously sweet CACTUS pears! They are the Scorpians of dessert fruit.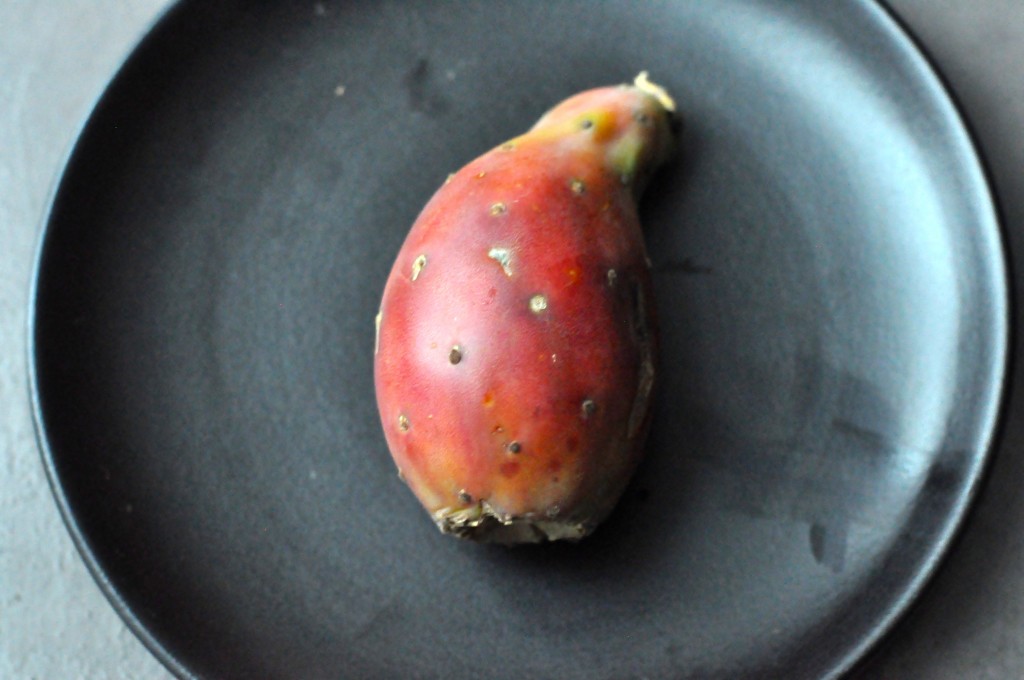 I'm a little dismayed at the recipes I've read online for prickly pear syrup because most call for the fruit to be pulverized first in a blender. But this isn't necessary. I think it's better to cook the fruit down with some sugar then press the soft flesh through a chinois to catch all the crunchy little black seeds.
As for interesting ways to use this syrup there are many: as a garnish to guaijillo BBQ pulled pork tacos, on roasted chicken as a glaze, and also as a sweet elixir to mix with tequila in a margarita or rhum in a mojito. Check out  the blog: Hunter Angler Gardener Cook for a tasty prickly pear glazed pheasant recipe.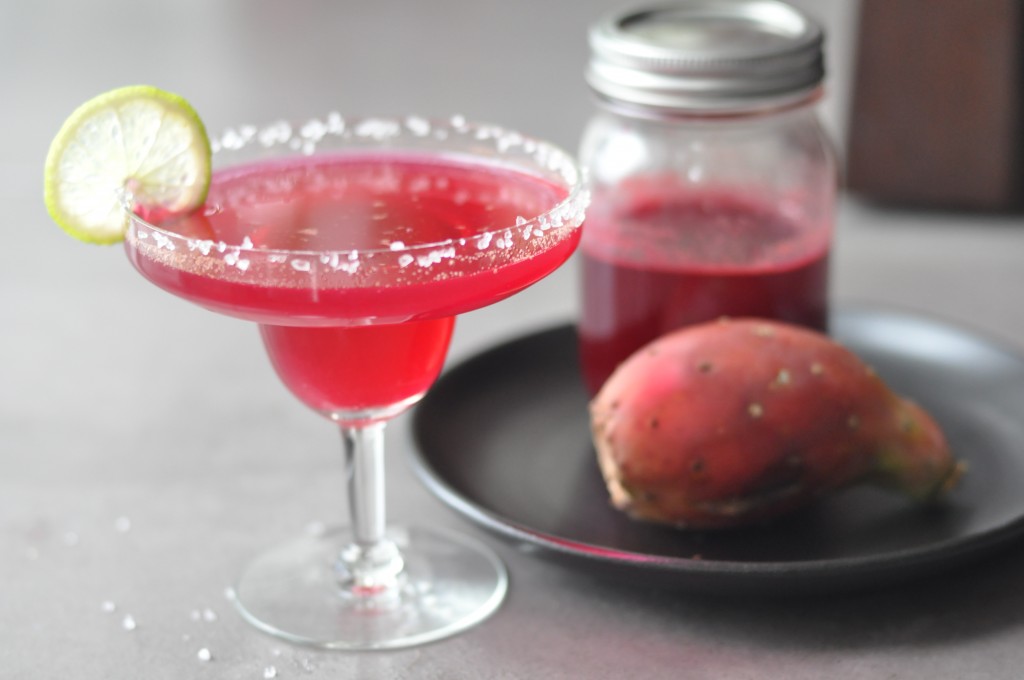 Prickly pears have a watermelon-like flavor that begs to be mixed with other fruits. Raspberry and Prickly pear is a great combo. I also like adding flower water essences (like rose & orange blossom) and spices such as: cumin, coriander, guajillo, pasilla, cayenne, and smoked paprika.
It is watery tasting when eaten raw in the same way a watermelon is, but when reduced into a syrup it is seriously sweet with little acidity. Keep this in mind. Lime is a natural balance for the prickly pear. Or if you are using this syrup in a savory dish as a meat glaze then add a little vinegar (sherry, red wine, or white wine) to balance the sugar and make it more of a gastrique.
Perhaps this isn't the first fruit that comes to mind for Spring but I'm having a lot of fun using this pretty cactus pear on Pie Ranch right now. Stay tuned for a nopales (cactus) Quiche and a prickly pear glazed pork roast….
Prickly Pear Margaritas
Ingredients
Prickly Pear Syrup:
5 pounds of ripe prickly pears, peeled and roughly chopped
1 cups sugar
1/2 cup agave (you can sub sugar but I like the flavor)
For Margarita:
2 ounces white (blanco) tequila (agave) like Espolon
1/2 ounce Cointreau
1/2 ounce prickly pear syrup (or more to your liking)
1 ounce fresh squeezed lime juice
Ice cubes
Garnish: Lime, coarse salt, cayenne salt rim,
WARNING: PRICKLY PEARS ARE PRICKLY!
Using a hand towel that is folded over many times for extra protection or dishwashing latex gloves carefully peel the prickly pears. I find the easiest way to do this is with a vegetable peeler, but a pairing knife can be used too. Roughly chop the pears up into large chunks and put in a small sauce pan with sugar and agave to macerate for five minutes. Once the sugar has drawn out some of the juice then gently simmer pears over medium-low heat until the fruit is completely cooked down and a glossy magenta syrup remains. The syrup should cook until it is thick enough to coat the back of of spoon – the consistencly of olive oil.
Strain the syrup through a small mesh sieve to catch all the little crunchy seeds. Using the back of a ladle or a spoon press the pulp down to release all of the juice. Chill syrup. This can be kept in an airtight container for up to a week in the refrigerator.
For the MARGARITA!
In a cocktail shaker combine white tequila, Cointreau, cactus pear syrup, lime juice and ice cubes. Shake, shake, shake for 10 seconds. Strain into a chilled martini or margarita glass with salt rim (I think this sweet is great with a spicy cayenne salted rim!).
Note to Bartender: I sometimes add a tiny splash of rose water essence or orange flower water essence to the syrup.