Every week my oh-so-adorable Edible After School students beg to make cakes, donuts, and cookies. And every week I say: NO!
Except this week – this week we made Pastel de Tres Leches cake which is a sponge cake of sorts soaked in evaporated, condensed, and whole milk.  A hefty dollop of whipped cream frosting and a cherry on top completes the finished product. Since we are studying regional Mexican cuisine I figured this would quell the incessant nagging for sweet stuff.
Why choose this cake for kids? Because it is one of the most nutritious cakes I know of. With 6 eggs and extra dairy it has more protein  than most cakes which offsets the sugar rush.
Oh who am I kidding? I ate half a whole cake on my own (it was that good) and then suffered terribly from carbo overload – you know when all that sugar hits your system and your eyelids start to get heavy? Must….take….a….nap….zzzzzzzzzzzz……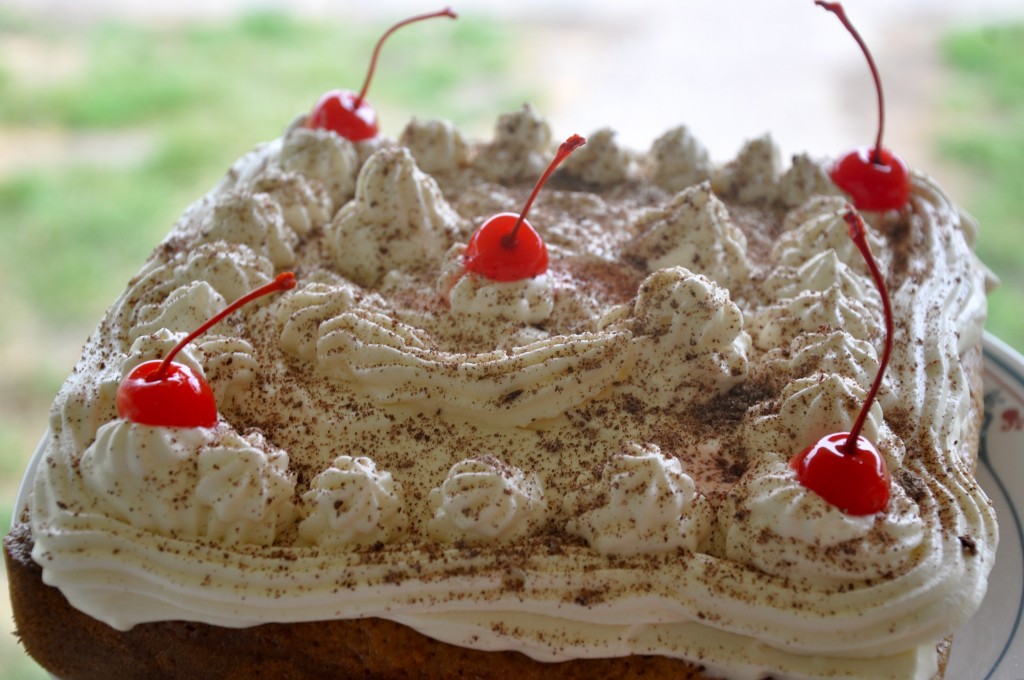 Sponge cake is not as easy as quick breads for kids but it's a good first real cake for them to try because it does require whipping the egg whites stiff – but not dry or over whipped – and folding in the remaining ingredients gently in 3 additions.
This recipe is modified from traditional sponge cake – there's no cooking the eggs over a bain marie or anything so the process is more kid friendly. All the same the result is pretty close to the traditional sponge cake.  I don't know that I would try and roll this cake if baked thin, but it certainly absorbs liquid well. (Speaking of absorbing liquid – why not add rum to the cake for an adult version?)
The cake itself is moist, fluffy, and the crumb does not turn to mush when drenched in the three milks. We baked this cake in square 8 x 8 inch pans so the height would be 3-inches, but it could be baked into a larger pan.
We also stabilized the whipped cream with a small amount of unflavored gelatin so it would hold up to a piping bag. Some students got extra fancy and topped their cakes with coconut flakes and substituted coconut milk for evaporated milk to drench the cake in added flavor. Most opted for adding vanilla and cinnamon to the batter.
Hope you enjoy this classic! We sure did…
Pastel de Tres Leches
Ingredients
8 tablespoons butter (one stick), melted and cooled,
6 large eggs, separated (no yellow in the whites or they won't whip)
1/4 teaspoon baking soda
1/4 teaspoon sea salt
1 cup sugar + 1/2 cup sugar for whipped cream frosting
2 tablespoons vanilla (1 for cake batter, 1 for whipped cream frosting)
1 cup all-purpose flour
2 cups milk
1 can evaporated milk, 12oz
1 can sweetened condensed milk, 14 oz
1 1/2 cups heavy cream
2 teaspoons unflavored gelatin (optional, this is for stabilizing frosting)
Optional Garnishes: maraschino cherries, grated chocolate, ground cinnamon, fresh toasted coconut flakes or dehydrated, tropical fruit, grated orange zest
Preheat oven to 350˚F and place baking racks in the middle of oven. Grease an 8-inch x 8-inch pan.
In a KitchenAid or standing mixer whisk eggs whites, baking soda, and salt until stiff and glossy but not dry. Do not overmix egg whites or they will separate and look like curdled clouds – if this happens throw them out and start again.
Mix egg yolks in a small bowl with a fork and then add them to egg whites whisking on medium speed until they are entirely mixed in. Turn the mixer down to low speed and add the sugar in a constant stream. Turn off the mixer and fold in melted and cooled butter by hand. It's a good idea to drizzle the butter down the side of the bowl so it does not deflate the egg mixture.
Sift flour in three parts over egg mixture folding after each addition.
Pour the batter into the greased baking pan and cook until golden brown. About 25 to 30 minutes. When a cake tester comes out clean after insertion, the cake is done. Transfer cake to a wire rack and poke holes all over with a skewer. Whisk together the 3 milks (condensed, evaporated, and whole) in a bowl and pour over the cake while it is still warm. You do not have to use all the milk to pour over.
Transfer cake to a plate and allow to cool. The cake is better if it is refrigerated for at least an hour so it can absorb all the milk.
To make the stabilized whipped cream frosting: bloom gelatin in 3 tablespoons of cold water. Then microwave until warm and melted for about 30 seconds. Whip the whipping cream adding in 1/2 cup sugar in a stream (or less or more depending on how sweet you like it!). When the whipped cream is begining to thicken whisk in the gelatin until soft peaks form. Refrigerate whipped cream until ready to use.