Flammekueche or Tarte Flambée (German or French for 'flame tart') is an Alsatian pizza with a luscious crème fraîche or frommage blanc base that is topped with thinly sliced onions and lardon and cooked in a wood burning oven.
If you ask for Tarte Flambée Gratinée  in Alsace you will get an addition of Gruyère, or if you demand your pizza forestière you will receive added mushrooms. However, I think you will get nothing but strange looks if you ask for delicata squash slices…hmmm…would the translation be courgière?
Tunitas Creek Kitchen whipped up this Alsatian pizza to pair with wheat beer from Cypress Brewing Company at our recent dinner. We only made a few slight changes to the original recipe – we added delicata squash, rosemary, pancetta instead of lardon, pecorino, and a drizzle of malt extract – an ooey gooey malty sweet tasting syrup used in beer making.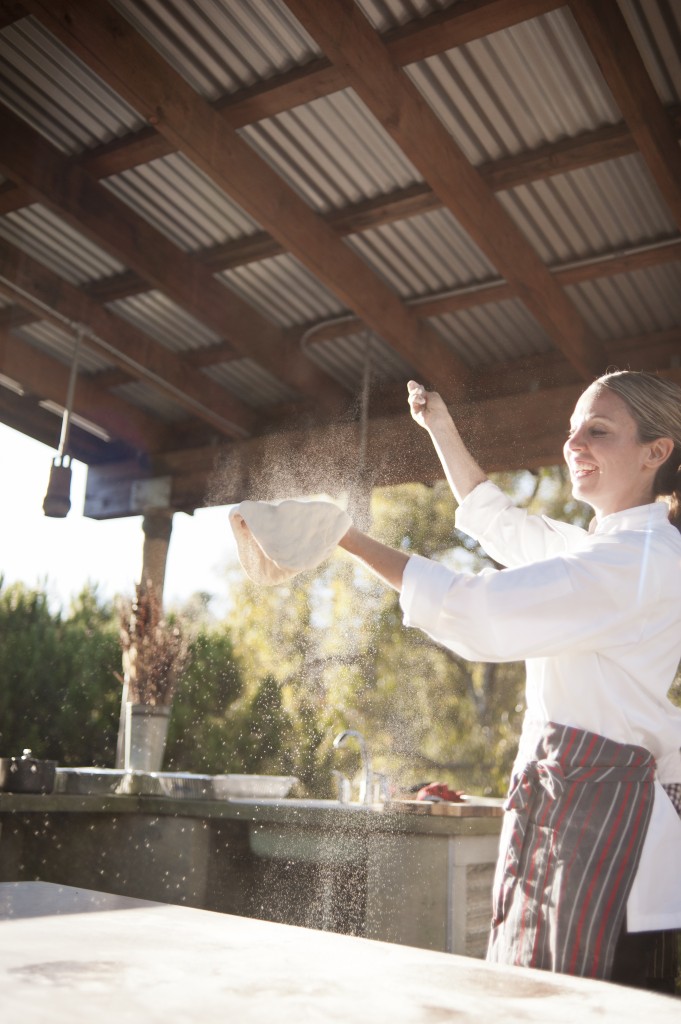 Flammekueche, is said to have been created by bread bakers in Alsace to test the heat of their wood burning ovens. Legend has it, they would push the embers back and bake this pizza, then I presume enjoy a nice snack before getting down to business. The intense 700˚heat (or higher!) would torch the crust hence the term Flambé.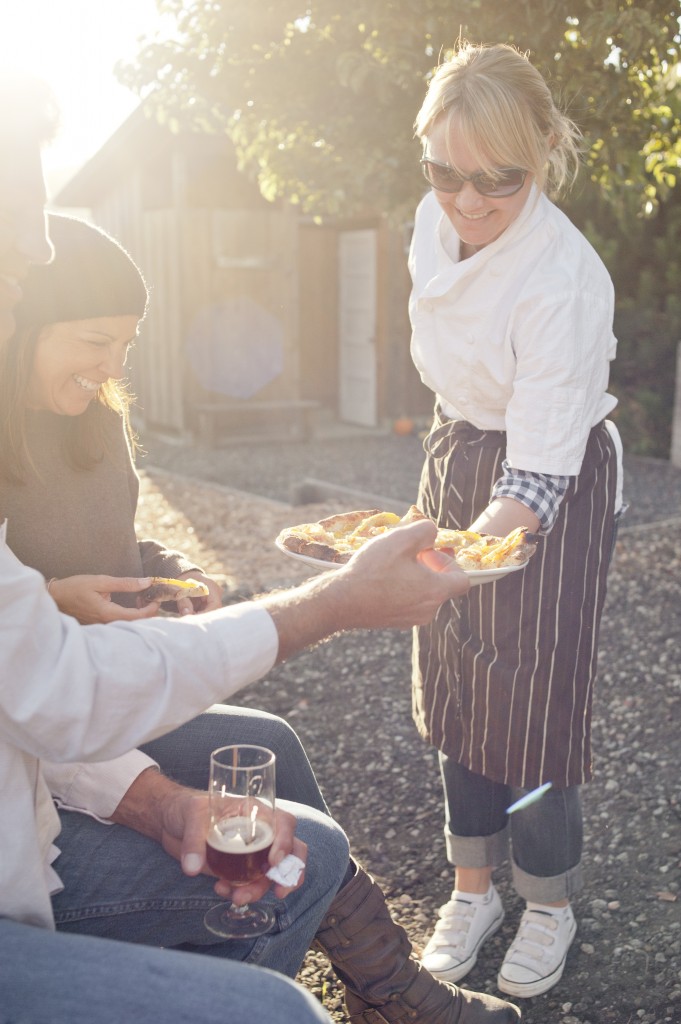 Even though this pizza can be cooked in a regular oven the wood fire smokes the cream sauce base and makes this simple pie incredibly more-ish. The malt syrup drizzle adds a hop-y caramel flavor that brings everything together. Brian (co-owner of Cypress brew with wife Lea) tells me he brushes pizza crust with the syrup, which would also be tasty. I opted for the drizzle because it has the consistency of honey and its troublesome to get off the spoon and off my fingers.
Our guests thought the pairing went great together. But when you're drinking fresh cold beer that looks as good as this…
how can it not?
Delicata Squash Flammekueche
Ingredients
Dough:
1 cup lukewarm water
2 1/2 teaspoons, or 1 package active dry yeast
2 1/2 White unbleached double zero '00' flour (you can use all-purpose flour)
1 teaspoon salt
Toppings:
1 cup crème fraîche or frommage blanc (sour cream can be substituted)
2 yellow onions (walla walla are great if you can find them) sliced thinly into rounds
1 delicata squash cut into 1/4-inch rounds (leave skin on, no need to peel, remove seeds)
2 springs rosemary, chopped
8 to 10 ounces pancetta
1/2 cup grated Pecorino Romano or Comte grated or shredded finely
Sea salt
Malt syrup (optional) for a drizzle
Combine the warm water and yeast in a bowl a nonreactive mixing bowl. When yeast starts to bloom add one cup of flour and mix well. Allow for a short proof of around  five minutes. Then add salt. (Salt kills yeast, so it's a good idea to add this after the initial mixing of yeast and flour and give the little microbe guys a chance to get started.)
Add the remaining flour little by little working the dough either in a standing mixer with a dough hook or by hand until it is no longer sticky and comes together in one ball. Turn out dough onto a work surface and knead until dough is elastic and smooth (this can also be done in standing mixer).
Place dough in a mixing bowl coated with a little olive oil, place a towel over, and allow to rise in a draft-free warm area until doubled in size. Punch it down and let rise again. (or if planning to use the following day you can refrigerate before the second rise and finish the process later).
Heat wood fire oven to extremely hot (650-700˚F) or get your home oven going around 500˚F if it will allow.
Roll the dough out as large as you can. It can be rectagular or circular in shape. Smear crème fraîche over, top with onions, pancetta, and rosemary. Sprinkle pecorino over and a little salt to taste. Pop into the wood fire oven and cook for 5 to 7 minutes until crust is golden brown and toppings are bubbling.
Note to cook: when adding sauces to pizzas a little goes a long way. Too much and the dough gets soupy. Also, I like to top my pizzas on a pizza peel that's been dusted with a little cornmeal and I check often to make sure my pizza is not sticking to the peel or it will be difficult to get off.