How totally snobby does this salad sound: Cara Cara Blood Orange & Radicchio Variegato di Castelfranco Salad? I would burst out laughing if I saw that actually printed on a menu, but hey, that's exactly what this salad is – blood orange and radicchio and not a lot else! (This starter does go great with Dungeness crab or seared sea scallops in case the fussy title left you hoping for a more complicated dish.)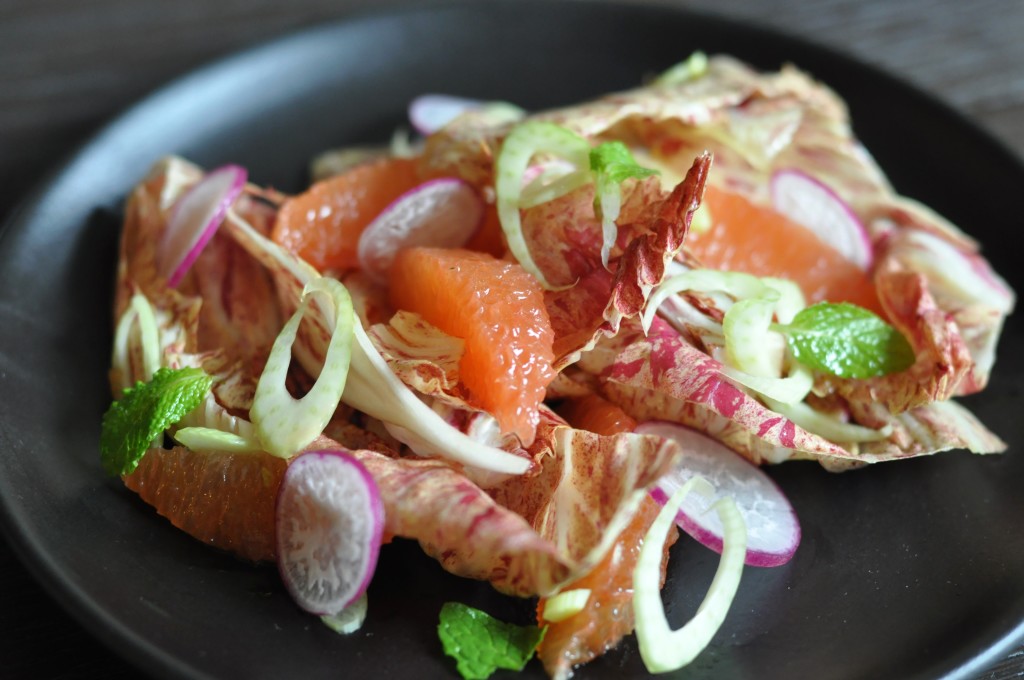 I look forward to Winter salads in a way that few people do. Juicy winter citrus, specifically blood oranges, are gorgeous this time of year popping with raspberry overtones and sweet acidic flesh. And all the bitter chicories come into season including the many colorful types of radicchio, frisée and endive. I think it's that bitter-sweet-sour-salty contrast I crave during the darker colder months along with more robust flavors.
This radicchio, Variegato di Castelfranco, is delicate with variegated pale yellow & magenta leaves. I don't always find it in the markets because it's more difficult to grow from what I've been told. (I would love some clarification on that if anybody is in the know?) Castelfranco is not quite as bitter as the more common deep burgundy radicchio, although the latter would be equally delicious with any sweet citrus and is easily substituted in this simple salad.
Shaved baby fennel, purple radish, & tiny mint leaves are all that's missing from the choppy-chop list. Segment the blood orange and squeeze the pith for all the juice into a bowl, mix with a big splash of hazelnut oil, a dash of white wine vinegar, plus a generous pinch of sea salt – and that's all there is to it – instant blood orange vinaigrette! Toss all ingredients in a bowl and serve.
For more blood orange recipes (yes, I love blood oranges!!!) check out these two recipes from last year…
Duck Tamarind  and Beet & Cara Cara Blood Orange Salad with Orange Blossom Vinaigrette