Beet salad is one of my favorites for its eye popping, show stopping magpie appeal. I like to prepare the beets three ways so guests can enjoy the complexity of flavors: raw, roasted, and spiced. The White balsamic vinaigrette with a hint of lavender is a nice counterpoint. This salad was part of a French Cooking Lesson at Pie Ranch.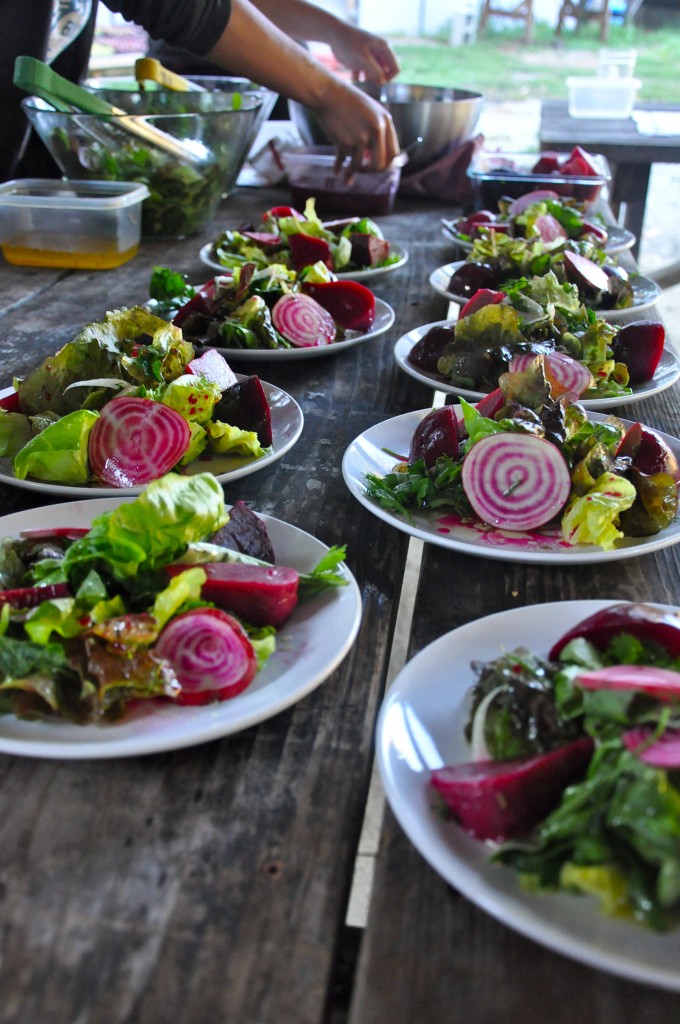 For the raw beets: shave very thin on a mandolin and be careful to not shave off your palm in the process. Raw beets are sweet and crunchy and I love the bright pink circles of the Chioggia variety.
Roasting beets is a far less daunting process than most people think. scrub the beets and place 'em into a roasting pan with a little water and cover tightly with tin foil. Bake on 450˚F until a knife pierces easily through the center of the beet. Rub off the skins as soon as they are cool enough to handle (the skins comes off much easier when they are hot) and put half  into a spiced pickling liquid.
For more pictures from our French Farm to table Cooking Class go to: https://www.facebook.com/AmyGlazeCom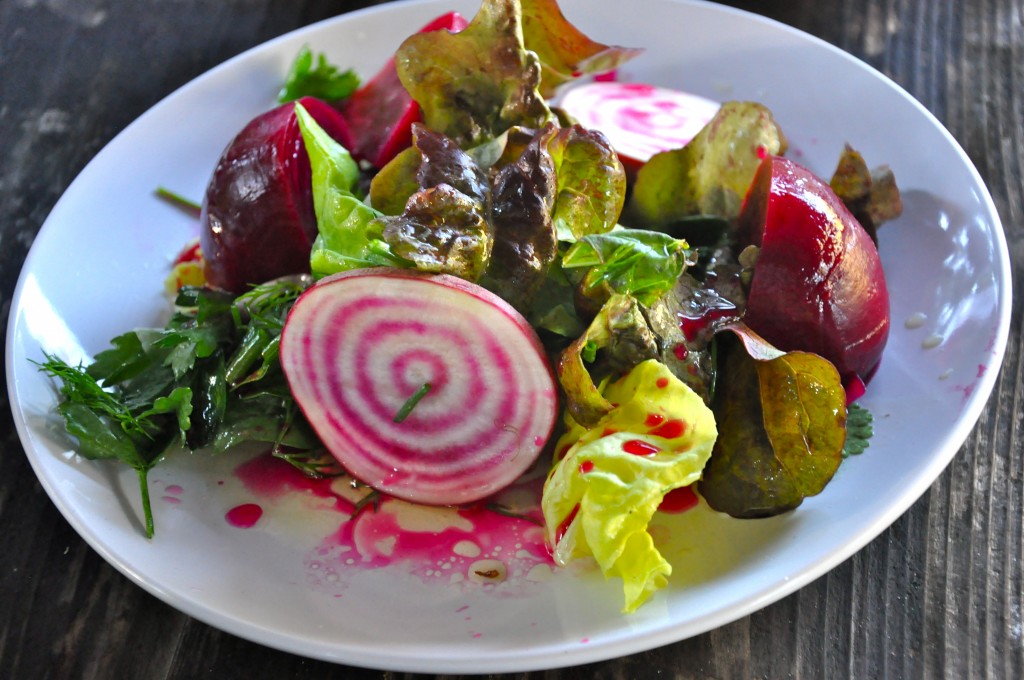 I love adding a ton of herbs in my salads and this one has everything Pie Ranch had to offer: tchives, dill, mint, cilantro, and basil plus gorgeous red and green butter lettuce.
Ah the joys of cooking on a farm! Won't you join us for our next French cooking class?
Beet Salad: Raw, Roasted, and Pickled with White Balsamic Lavender Vinaigrette
Ingredients
2 bunches chiogga beets
1 bunches red beets or mixed colors
1 head each of green and red butter lettuce
Pickling liquid:
½ cups of white balsamic vinegar, rice wine vinegar, or apple cider vinegar (but increase water to 1 1/2 cup with the apple cider vinegar)
½ cup sugar
1 cup water
3 star anise
½ teaspoon coriander seed
½ teaspoon yellow mustard seed
6 cloves
2 cinnamon sticks
White Balsamic Vinaigrette:
1/4 cup white balsamic
3/4 cup walnut oil
1 tablespoon dried lavender crushed
Sea salt and freshly ground pepper to taste
For roasted beets: Heat the oven to 400°F. Slice off the beet leaves close to the tip of the beet. Reserve the beet greens for another purpose. Scrub the beets, and then wrap them loosely in foil.  Small beets can be wrapped together. Put the wrapped beets on a baking sheet. Roast for 50-60 minutes. Check the beets every 20 minutes or so. Beets are done when a skewer slides easily to the middle of the beet. Let the beets cool enough to handle. Hold one of the beets in a paper towel and use the edges of the paper to rub the skin away. The skin should peel away easily.
For Quick Pickled Spiced Beets: Roast beets using the recipe above until just done. Slice into quarters or desired shapes. Bring all the ingredients for pickling liquid to a boil and then pour over beets – fully submerge beets. Allow beets to cool to room temperature and then refrigerate. Quick pickled beets will keep for up to five days and the pickling liquid makes a delicious vinaigrette too.
For Raw Beets Yes, beets are actually very tasty raw. Trim beets and scrub clean. With a mandoline carefully shave beets into super thin slices. Cut or punch beets out to desired shape. Reserve in refrigerator on a plate with a slightly damp paper towel. Will keep for up to 2 days.
Presentation: Whisk the white balsamic vinaigrette together and season with salt and pepper to taste. Toss each of the beet preparations with mixture making sure to keep colors separate because beets bleed. Plate with your own artistic flair. Mix some of the beet pickling liquid with olive oil and dot the plate with the broken pink vinaigrette. Garnish with shaved radish, arugula, herbs, and goat's cheese if desired.