While I'm writing up Paris must-experience eateries I thought I'd better mention Angelina's. Their menu I would like to put in my vita-prep on high but the hot chocolate is just sexy. I mean look at that photo!
Yes…yes…YES!!! (oui…oui…OUI!!!)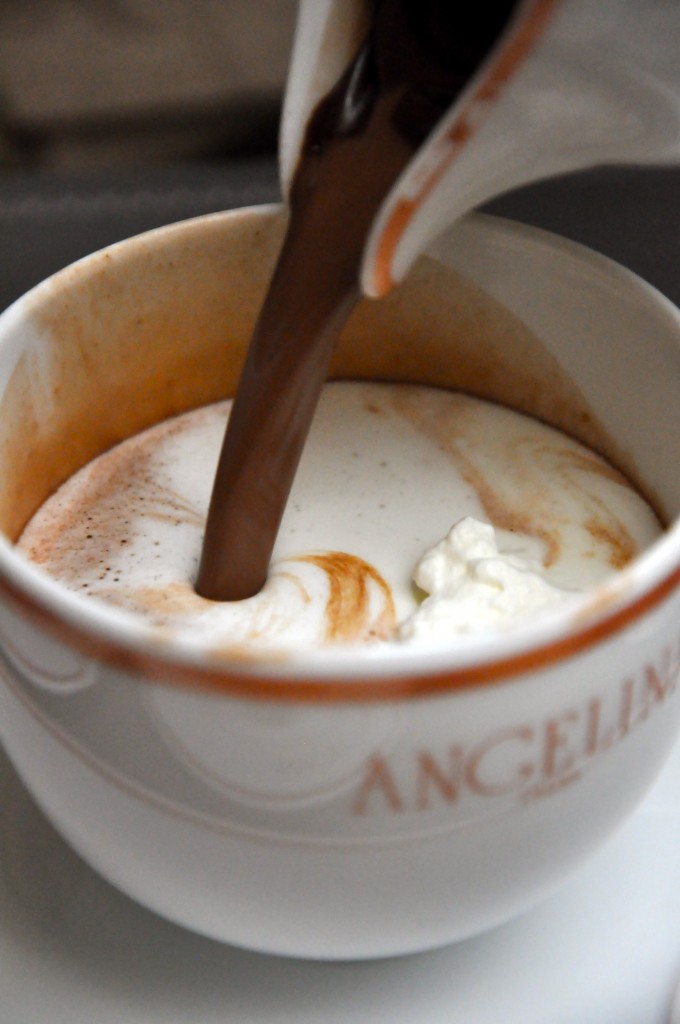 How they make this magical thick hot chocolate is a mystery to me. There's controversy in chocolate land on whether or not milk should be used, or cream, or a combination and whether powdered chocolate is prefered over melted. And yes, I have asked on several occasions what the secret is. And no, I never get a response – just a reminder that the hot chocolate is for sale in the lobby in a powdered version that I can make at home that doesn't taste anything like what they serve in the restaurant. (It's still good, just not as good).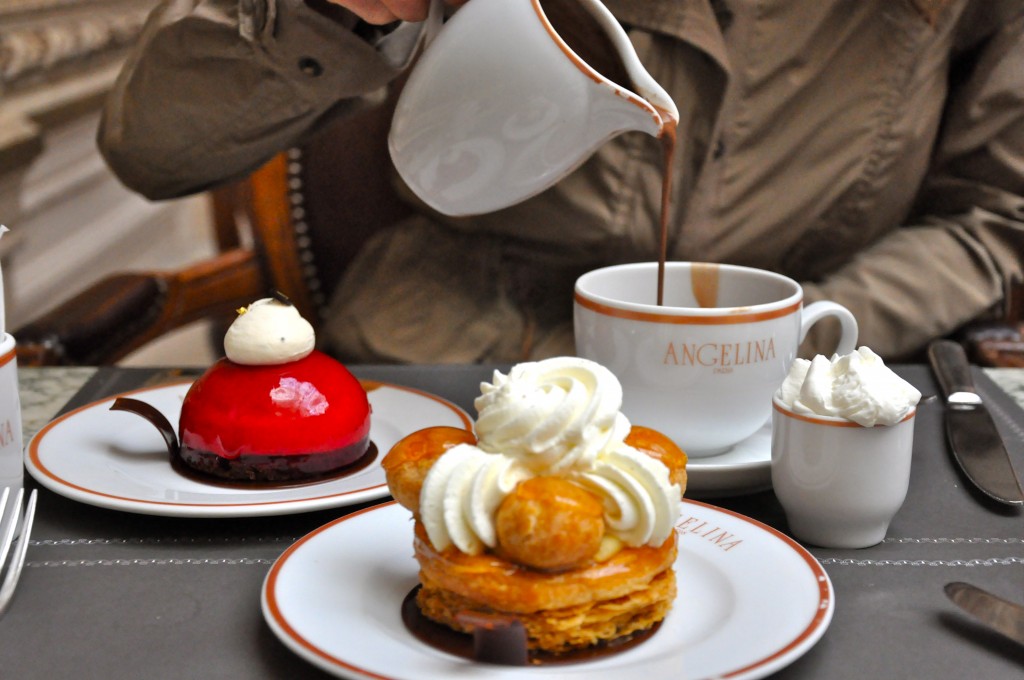 Thankfully this is not my world or expertise, and I just know that I like coming here.
What's not so sexy  about this grand institution is that fact that the building is slowly crumbling and if you look close at the ceiling you will see paint peeling and water damage. The lighting is wannabe natural with an enormous florescent lit ceiling and some actual daylight that streams through the front window displays. I could do without the greenish glow – it makes me feel like I'm back in high school – and that's a bad thing.
Despite the wear and tear and a few annoying 1970's attempts at modernization, this place has held it's ground on Rue Rivoli since 1903 and the gold gilt still covers the walls with a nod to a more opulent era. Opened by a Hungarian couple this cafe was once known as Rumplemayors. Famous people have long visited for the African hot chocolate (with not too sweet whipped cream served on the side – yum) including Audrey Hepburn, Coco Chanel, and maybe even YOU! They do serve a nice breakfast and an okay traditional French bistro fare lunch – I opt for the salads.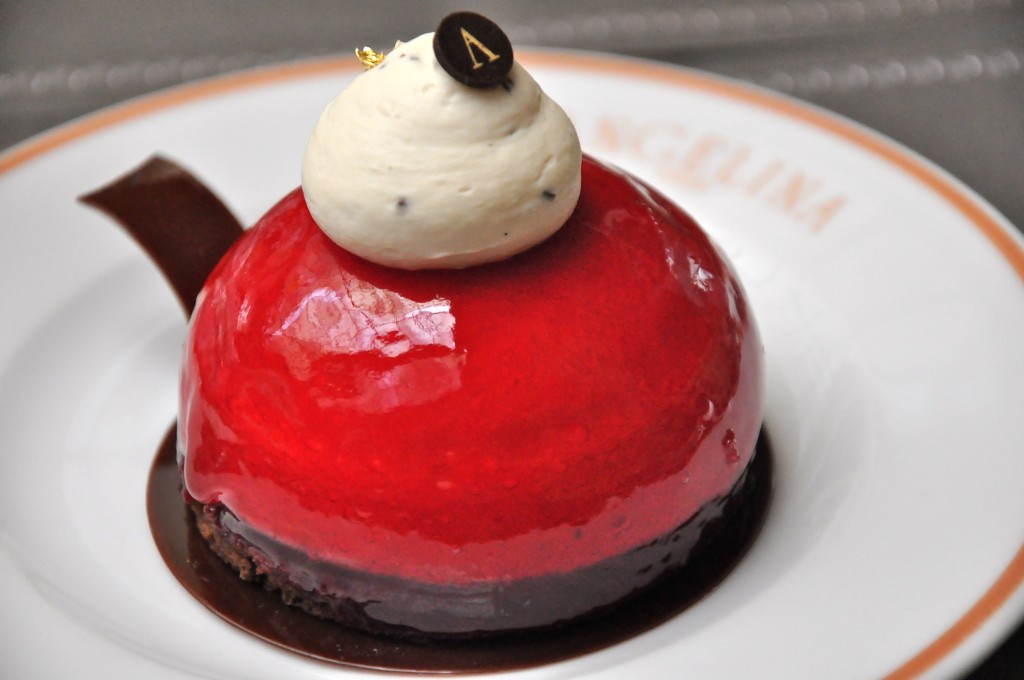 The waiters deliver excellent timely, friendly, and professional service and speak English. I enjoy the front of house hustle and bustle here. And the line that is toujours a mile long to get a table, moves fast. The hostess is on her game at all times and I have always been greeted and seated with courtesy.
The pastries are gorgeous and sometimes tasty. Yes, I really just said that. It's so easy to be a critic isn't it? When in fact each little dessert is a plethora of French pastry techniques requiring so much work and skill. Angelina's pastry shop is very good but, but when you are living in Paris (or any city) you get to know certain places for certain things.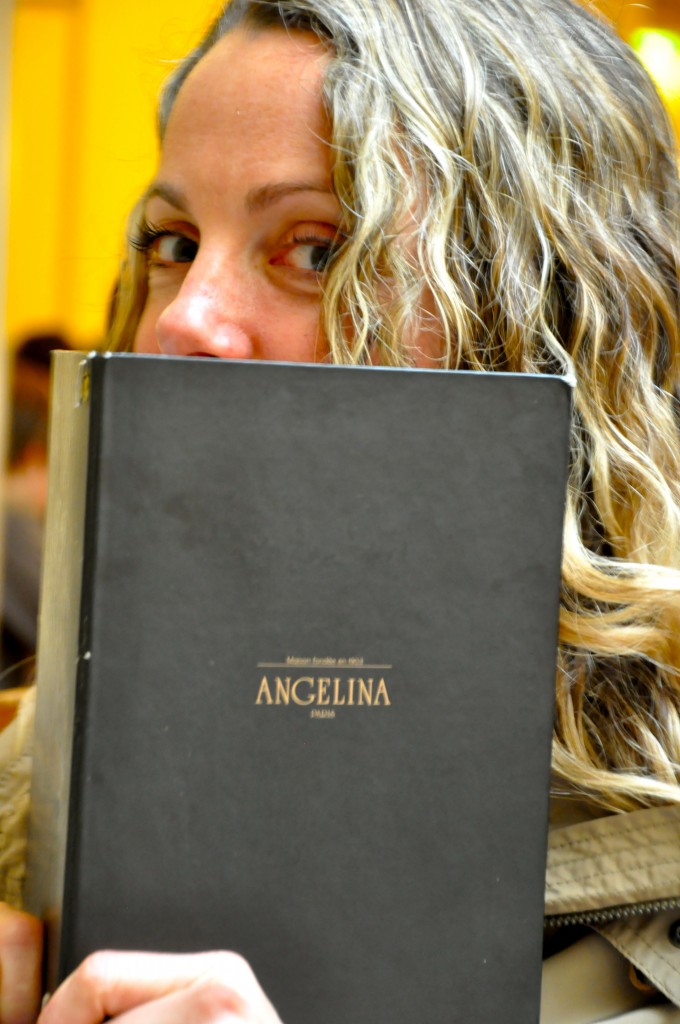 For me, there is something romantic about spending the day leisurely strolling through Jardin de Tuileries and taking in an exhibit at Le Louvre and then resting my weary feet in front of a heart warming, soul soothing cup of thick chocolat chaud.
Rain or shine, Angelina's is legendary and Le chocolat Africain is divine.
For more recommendations on Angelina's check out Paris by Mouth