I show up at Pie Ranch bright and early. The farmers are just settling into a hot breakfast of whole grain pancakes & soft scrambled farm eggs – no doubt having already accomplished more in the wee hours of the morn than I hope to in a whole entire day. Nonetheless adrenaline surges through my veins in anticipation of our "casual" lunchtime event for the popular San Francisco based hipster online Farmer's Market company, Good Eggs.
I'm eager to see what Farm Manager Maggi has in store for me in the walk-in fridge…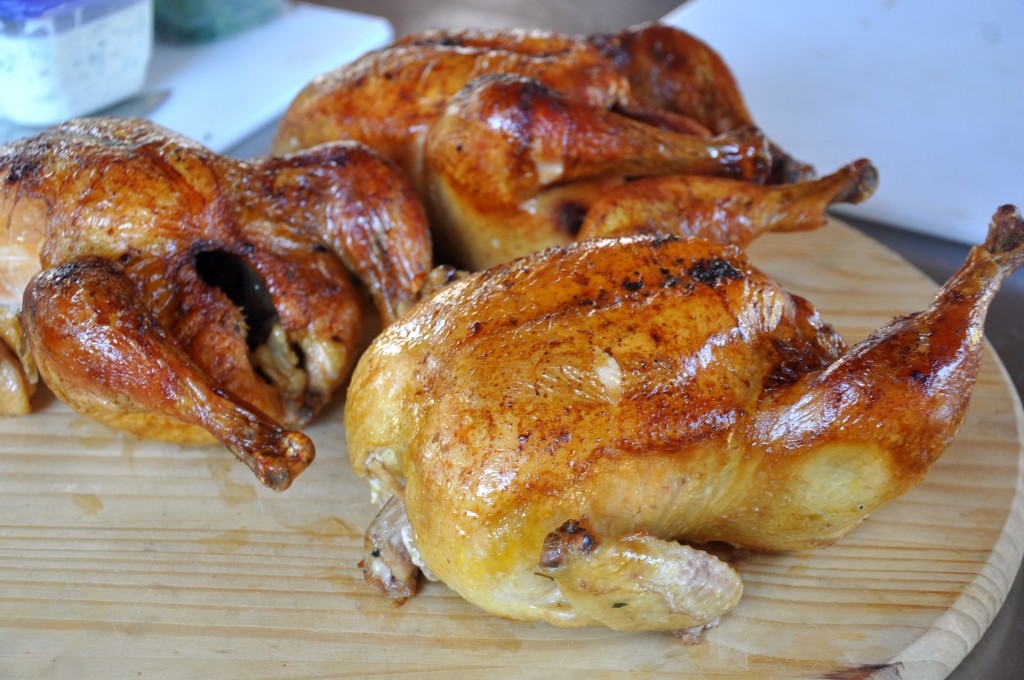 There is nothing casual about lunch at Pie Ranch. The effort starts with the planting & harvesting and continues through the preparation and clean up. Pie staff might pitch it in a similar way if you happen to be booking a team-building event or you are a corporate donor like Google or the Packard Foundation – but there is nothing casual about a 4 course lunch at least from my viewpoint. Don't let the country-chic table setting fool ya!
Jered, farmer/owner of Pie Ranch is a master fire builder and he has started the fire and the perimeter burn of the oven for me. I have requested the oven to be around 600˚F by 12PM for the 10 chickens that will get roasted and the plethora of side dishes and pies that will follow ensuite.
Building a fire in wood burning stove is an art. It takes hours. Jared starts a fire in the middle of the oven, then pushes the coals back around the edges (perimeter burn) while continuing to build a bigger fire covering more of the floor. This process is repeated until finally the oven is at temperature and is retaining the heat. At this point we normally either opt to scrape out all the coals or push them to the outskirts depending on what we are cooking.
I absolutely love cooking in woodfire ovens – the flavor cannot be beat– but they present some challenges and each woodfire oven is a little different so it's important to do a test run if you are unsure and cooking for a crowd. For today's menu and multiple courses it's really important that I have heat for an extended period of time so I've opted to not scrape the coals and I want some of that redidual smokiness in my food.
However, when I cook bread and pies, I do usually scrape out all the ash so I can bake right on the floor of the oven. And even though I am making foccacia today and I will be finishing with pies, I still need to get 10 chickens and two side dishes cooked inbetween. I love this kind of challenge!
I'm particular about how to cook chicken in a woodfire oven. And you may or may not agree with my methodology but they come out perfectly crispy on the outside and super juicy on the inside and I always receive tons of unsolicited compliments. If you use a different method I hope you comment because I'm very interested!
First of all I choose smaller birds around 3.50 to 3.85 pounds (just keep it under 4) because they cook more evenly throughout. Size is really important here and bigger is not better because I am not slow roasting. I want these birds to cook in 35 minutes. Secondly I do not truss the chicken. That's right, I said I DO NOT truss the chicken. I picked this tip up from Judy Rogers whose signature dish is a woodfire roasted chicken. Her reasoning is that hot air can circulate more freely in and around the birdy and the dark meat will cook a little faster which you want or you will end up with dry breasts – quelle horreur– dry breasts!
Now here's the part that's debatable: I do not believe in brining the bird. Chef Rogers does, I do not. I have tried it both ways and I have not found brining to make it any juicier and I do find that it can steam things up more than I like. I prefer to season generously with salt right before roasting.
I do brine many things. And I like milk brined birds when cooked in conventional ovens. But if you are starting out with a truly magnificent chicken that is organic and fresh then you will not need to brine.  The heat should seal in the juice on its own. If you don't have the luxury of fresh organic chickens then by all means brine away or if you are fire roasting a bird larger than 4 pounds you should brine. Note that many industrial chicken farms pump their birds with a saline solution so brining will be a double whammy and it's always a good idea to read the package.
Okay, now that the truth is out and you now know that I'm a brine hater and a no-trusser, here's a few more particulars: due to the fact that butter burns and I plan on roasting at a very high temperature, I slather olive oil on my generously seasoned birds. In a conventional oven you will find me roasting chicken with up to a whole stick  (or more) of softened butter shaping the breasts and upper drum sticks, but in a woodfire oven the butter would burn too fast and taint my jus. Don't taint my jus, okay? That's my favorite part!
I do not want the bottom of the chickens to burn on the floor of the oven so I cut just cured yellow onions around-the-world in 2-inch slices. I place two under each chicken. Maggi has supplied me with  juciest meyer lemons ever plus a plethora of fresh herbs. I stuff the cavity of the chicken with two lemon halves and sprigs of rosemary and thyme. Yes, this is a very basic recipe. And I think that if the chicken is great to begin with then simple is the way to go.
I use shallow roasting pans loading three room temperature birds to a tray with enough room around each so that there is room for hot air to circulate. By cooking three at a time there will be a lot of jus in the bottom of the pan and it will steam the chickens quite a bit which is another reason I don't want to add extra moisture to the birds. This dual steam-roast technique also helps keep the moisture. By placing the birds on seriously thick slabs on onion it also ensures that the birds won't be sitting in the their own juices and boiling.
The reason I want the temperature so high in the oven is because I'm roasting 10 chickens and I know the temperature is going to drop fast when I load them all in. You probably already guesssed that, but I thought I should clarify just in case. The temperature in this oven will drop from 600˚F to 500˚F in the first ten minutes  just from loading the chickens in and rotating them and basting them and then it will continue to drop to 425˚F and hold there for a few hours. Again, you gotta know your oven and experiment a little bit! If I was only cooking one or two birds I would want the temperature to start around 50o˚F knowing it would sink to 450˚ pretty darn fast.
The next part is easy: baste and rotate, baste and rotate, baste and rotate. Woodfire ovens have hot spots and if you have the coals in there you will need to rotate the birds around so they cook evenly. It's definitely a dance between basting and bricking up the oven opening so as not to let all the heat out. Take a look at that chicken meat though! That is a juicy bird!
I opt to throw in some tokyo turnips mid way through cooking because I need them roasted for one of the side dishes consisting of wilted kale, roasted tokyo turnips and hot bacon vinaigrette.  They will add a nice earthy complexity to the jus.
I check one chicken after 3o minutes for doneness by holding my knife sharpening rod in its cavity and allowing the juices to run out into the baking pan. The juices are still a little reddish brown so I know it's not quite done. The juices in the cavity will run clear when the chicken is finished. (I wouldn't suggest trying this trick with a turkey).
Another five minutes and we're good to go.Which is a relief because I can see the Good Eggs crew making their way down from the "Upper Slice" and their farm tour. Time to plate our Farmhand salads and get the sides organized and as soon as those chickens come out the bread is going in and I still need to get all those birds carved – they better eat slow! The heat is on!
The chickens come out perfect and everyone says so. I strain the jus and add a touch of sherry vinegar to give it a little acidity. The wheat berry with roasted aritchokes and nettle pesto is a hit, the rosemary foccacia made from wheat milled on site is a wonderful vehicle for mopping up jus, and the wilted kale & roasted tokyo turnips with hot bacon vinaigrette disappears. Now there's just pie remaning and then a whole lot of dishes.
That's the one thing Pie Ranch doesn't have… a dishwasher… but that woodfire oven makes it all worth it!