This is a great French bistro dish and makes a beautiful summertime side for just about any roasted protein. It also works on it's own with the addition of a poached egg and perhaps a few filets of white anchovy or some pork belly. This side dish was part of a class at Pie Ranch on French cooking. The lesson here was on emulsified vinaigrettes – or mayonnaise based sauces.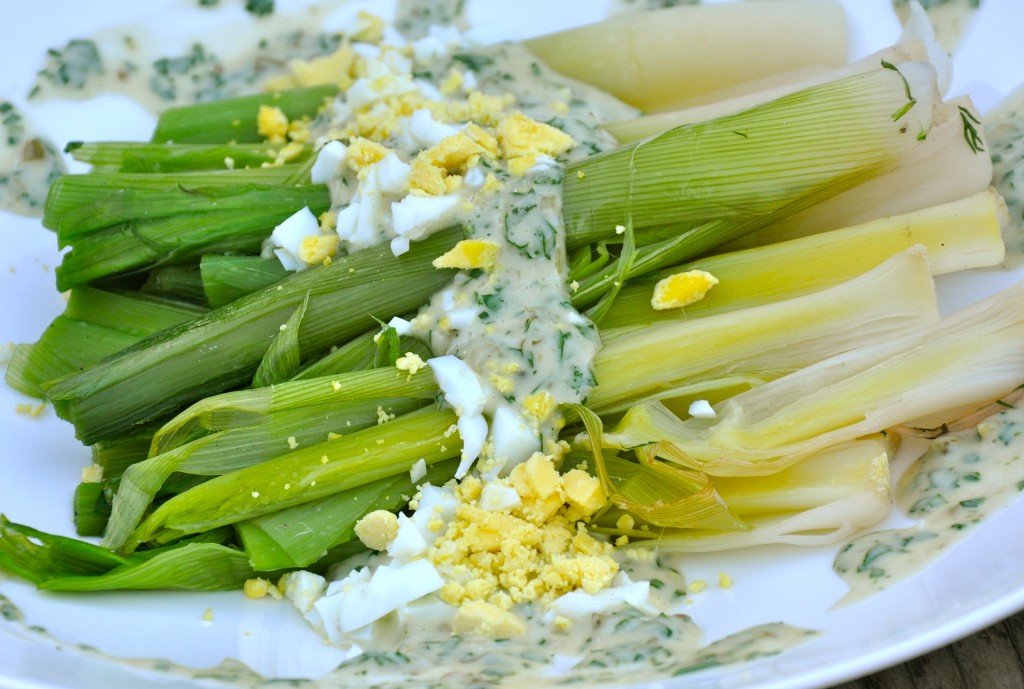 It's hard to imagine for us Americans that mayonnaise is anything more than a condiment for sandwiches but in France they are used in so many ways – and not on sandwiches funny enough. One of my favorite emulsified sauces is the truffle vinaigrette at Guy Savoy that accompanies poached chicken, artichoke, and truffle. The acidity, creaminess, and black truffle jus are a perfect match.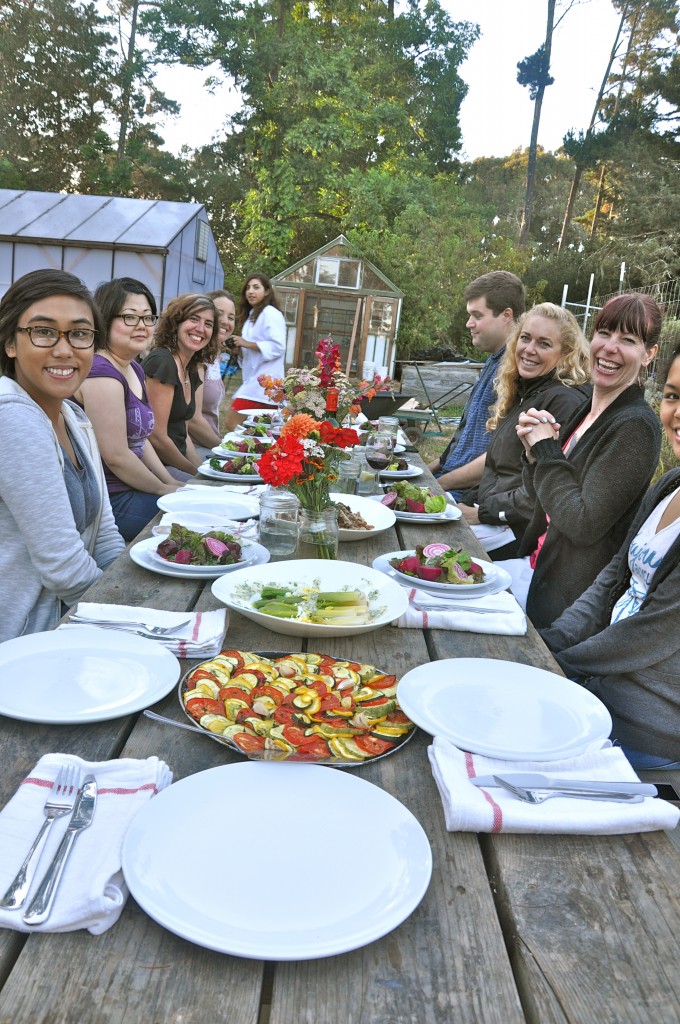 The emulsified sauce with leeks vinaigrette or Poireaux À La Vinaigrette is also used for chacuterie and butcher cuts such as beef tongue served cold. It's sometimes called a butcher sauce.
The trick to making mayonnaise is starting with ingredients that are all room temperature. An egg yolk straight out of the fridge will break the emulsion. Also adding mustard to the egg yolk first and then whisking in the oil in a slow stream works best.
For more pictures from our cookin class at Pie Ranch go to: https://www.facebook.com/AmyGlazeCom
Leeks Vinaigrette: Poireaux à la Vinaigrette
Ingredients
8 small leeks, about 1 pound
Salt and pepper
1 organic egg yolk (optional)
1 tablespoons Dijon mustard
2 tablespoon red wine vinegar
2 tablespoons sherry vinegar
3/4 cup grape seed oil or other flavorless oil
2 teaspoons capers (rinsed so they are not overly salty)
8 to 12 cornichons
½ bunch tarragon chopped
½ bunch chives chopped
2 hard-cooked eggs, whites and yolks riced or chopped separately
Garnish with crumbled lardon or bacon if desired
Leeks are grown in a lot of dirt and it's important to wash them properly: make a lengthwise slit part way down each leek until the white part. Put leeks under running water and wash away dirt by pulling layers back. Trim leeks, removing tough outer layers and cut off just at the tip of the root. Cut off the dark green leaves down to the beginning of the light green.
Make a bunch with three leeks and tie tightly with cooking twine so that they are secure. Fill a large pot (tall enough to cook leeks vertical) with water and bring to a boil. Add a generous three-finger pinch of salt and put in leeks (the water should taste salty like the sea). Cook at a brisk simmer for 8 to 10 minutes, until leeks are tender when pierced with a paring knife. Immediately shock leeks in an ice bath so they will keep their bright green color. Drain. Refrigerate until ready to use.
For vinaigrette: In a mixing bowl whisk the egg yolk (room temperature) and mustard. Whisk in oil in a steady stream. Whisk in vinegar and season with salt. Of course you can skip the egg yolk and just make a regular vinaigrette too. Season with salt and pepper and add cornichons, capers, parsley, tarragon, and chives.
Divide leeks among plates. Spoon vinaigrette mixture over leeks; Garnish each plate with chopped hard-cooked egg yolk & egg white. Sometimes I like to garnish with lardon and white anchovy too.
Note to chef: If desired the leeks can be warmed in the oven before serving
Note to chef: In France we don't bother with coddling eggs but here in the U.S. raw egg cannot be served in a restaurant due to potential salmonella problems. It is thought that the vinegar in salad dressings kills it. However, to coddle an egg: place it in boiling water, turn off the heat, and allow it to sit for ten minutes. Some people feel you can "candle" an egg to coddle it but I don't know for sure. I've never had any problems with eating raw egg based vinaigrettes.