Hami melon is my latest and greatest discovery of the summer. It's sweet & salty like cantaloup. Crisp & juicy like watermelon. And refreshing and delicate in color – so pale in fact that it gets lost in my iphone snap of our special salad for the day…
Chef Faz calls me on a busy morning at our Oakland location to let me know (with effervescent excitement) that he has sourced a farm in the South Bay completely dedicated to growing this melon and, more importantly, that it has arrived. I immediately drive down to our Pleasanton restaurant after lunch service to see what all the fuss is about…
Although this melon is Chinese in origin, it is extremely popular in Iran. The taste of home is by far the sweetest nectar and Chef  Faz fondly remembers farming this melon and the pleasure of cutting one of the leash and carving into it for a refreshing slice of  warm, sweet, edible rehydration. These memories are crisp from youth…
Upon my arrival in our Pleasanton corporate office, Chef beckons me to the large hotel kitchen bustling with cooks preparing banquets and corporate events, not to mention line cooks fiercely whipping up late lunches for hotel guests and poolside snacks, to proudly show me his trophy.
And what a trophy it is! A gorgeous oversized heavy football, yellow and green with tan webbing. He politely pushes over the pantry cook to borrow his knife & cutting board and quickly slices the melon for us to taste. He doles our samples to the line cooks who are overheated from the mesquite woodfire open pit that is so outrageously hot my face turns a dark shade of crimson every time I walk in front of it. Smiles radiate from the cooks and nods of 'this-is-soooo-good' abound. This sweet melon is a breath of fresh air, a respite in the middle of organized chaos. Chef leaves the melon with the pantry cook and declares that we want melon for lunch and nothing else! Who am I to argue?
Like the other two great Chefs I've had the pleasure of working with, Chef Faz is passionate about the purity of the ingredient – the excitement of simplicity and rustic perfection in it's natural form. I have a lot of respect for this no-fuss sort of attitude. There are some things in life that just don't need improvement.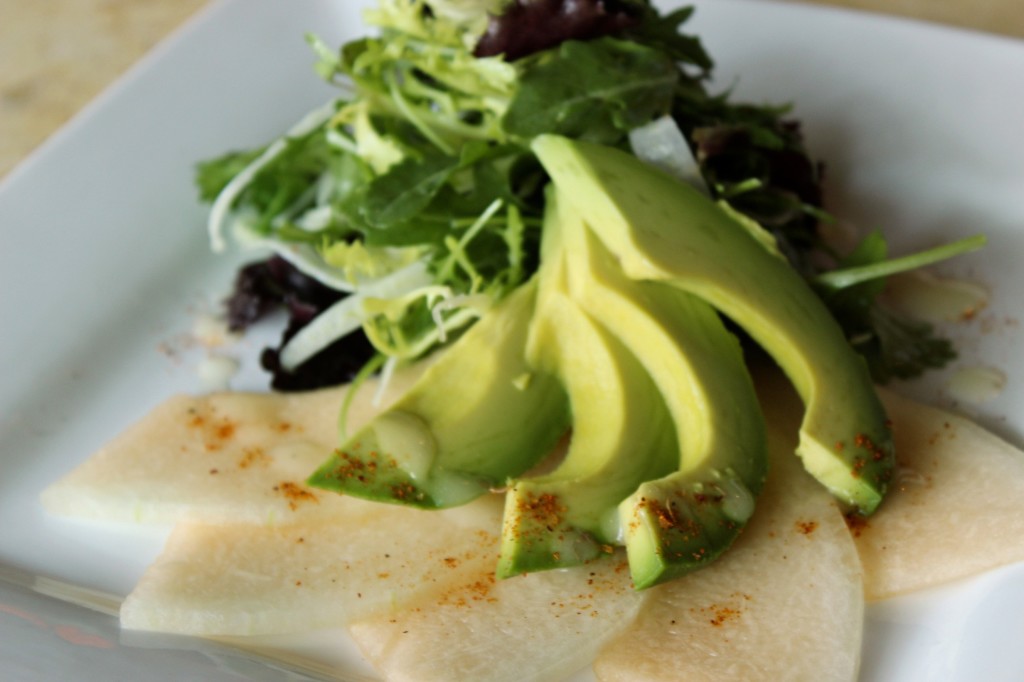 I have served this melon in a few different forms from this first initial encounter. Sometimes I slice it for an appetizer with proscuitto and burrata, or chop it up into a grilled and marinated calamari seafood salad with cucumber and red onion. Or serve it with a simple wild arugula, shaved fennel, cucumber and mint salad with a white balsamic vinaigrette – very refreshing.
Hami Melon & Avocado Salad
Ingredients
1 hami melon, peeled & sliced 1/4-inch thick
1 avocado, pitted & sliced
3 handfuls wild arugula
1 baby fennel, shaved thin on a mandolin
1 persian cucumber, sliced thin
5 mint leaves, torn
4 cilantro sprigs, torn
1/2 cup white balsamic vinaigrette (some brands are more acidic than others, I prefer the milder ones)
1/2 teaspoon sea salt
1 teaspoon dijon mustard
1 teaspoon sugar
1 1/2 cups canola oil, or other flavorless oil
To make the white balsamic vinaigrette: combine the vinegar, mustard, sugar, and salt in a mixing bowl and drizzle in oil whisking to emulsify completely.
Toss the salad fixings in a bowl and season with a pinch of sea salt, dress with vinaigrette. Fan hami melon slices on plate with avocado wedges on top. Season melon and avo with a little salt and a pinch of cayenne if desired. Enjoy!