Branzini is the plural form of  branzino, did you know that?  After all these years of cooking and I just found that out! I thought they were just different spellings of the same fish. Yup, that's my ah-ha moment for the day.
Grilling whole fish: if you've had limited success grilling fillets that break or stick on the grates, then grilling whole Branzino will be cake. Start with fresh fish, make sure the eyes are clear and the fish smells like the ocean – not ammoniated – if the scent of windex wafts up your nostrils move on to the meat counter. Have the fish monger gut and descale it – or do it yourself. I often just let the fish monger do it, simply because I don't need fish scales flying around my home kitchen, those things get stuck everywhere.
Pat the fish dry inside and out. Cut a few diagonal slices into each filet if desired. Season the fish inside and out with Kosher salt, a little sumac and smoked paprika and a pinch of cayenne. Stuff the cavity with herbs and sliced citrus. I don't tie the fish up unless it's over 1 pound – it's just not necessary and it cooks better when heat can circulate inside. I find untying the fish can destroy the crispy skin. I also don't truss chickens either for the same reason. It will still be juicy because all those little cartilage bones are going to give it some extra flavor.
How To: fire up the grill on high heat. After five minutes get out the brush and clean the grates. Lightly oil a kitchen towel and quickly clean and season the grates with the oiled the rag. Let the grates heat up once again for at least a minute. Lightly oil the outside of the branzino – super light. Too much oil will smoke over the heat and that gives an unpleasant taste, so go easy on the grease. If your grill is well seasoned don't even bother with extra oil.
Lay the fish down gently diagonally across the grates, turn down the heat to medium and let it ride for 4 minutes. Do NOT move it. If it hasn't seared properly on that side, or the grates weren't hot enough to begin with, it's going to stick. Using a spatula and your other hand to steady it, gently flip the fish to the other side and cook for another 4 minutes.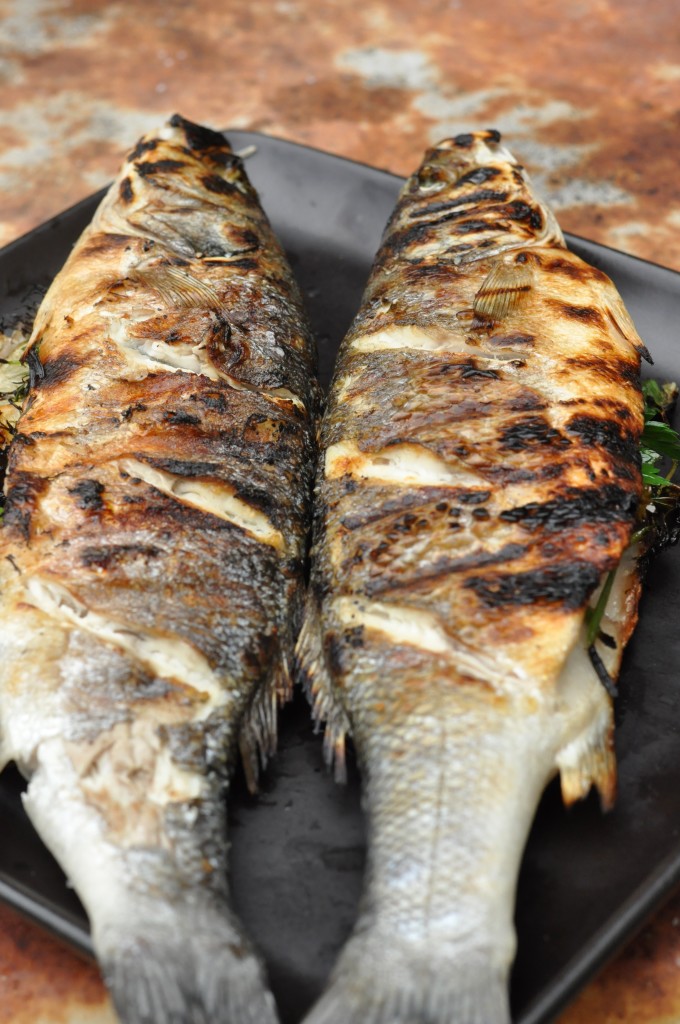 I figure one fish per person. Serve with the green harissa sauce, rice and grilled tomatoes!
Grilled Branzino with Green Harissa
Ingredients
For Green Harissa:
2 cloves garlic
1 cup cilantro
1/2 cup mint leaves
1 tablespoon crushed dry mint (optional, adds an extra layer of mintiness)
1/2 cup flat leaf parsley
1 jalepeños, stemmed and seeded
1 serrano chile, stemmed and seeded
1 lemon, juiced
1 lime, juiced
1 teaspoon each: toasted cumin & fennel seed, ground (about 1/2 teaspoon ground)
1 teaspoon kosher salt
1/2 cup extra virgin olive oil
For Fish:
1-pound branzino, cleaned and de-scaled
Kosher salt
Sumac
Smoked paprika
Cayenne pepper
1 lime and 1 lemon, sliced thinly
Sprigs of mint and parsley for stuffing
2 green jalapenos, seeded, finely minced
1/3 cup plus 1 tablespoon vegetable oil
Kosher salt
2 whole branzino or small red snapper, cleaned
1 lime, thinly sliced
Prepare grill for medium-high heat. Brush grates clean and lightly oil with an oiled rag to season.
In a food processor, add the garlic, cilantro, mint, parsley, peppers, lemon and lime juice, cumin, fennel, salt and pulse to combine. Drizzle in the olive oil, while blending until well mixed but just a little chunky. Taste and adjust seasoning. Transfer to a small bowl and cover with a light float of olive oil if keeping for more than a day to stop oxidation, refrigerate.
Season fish inside and out with salt, sumac, cayenne, and smoked paprika. Stuff with mint sprigs, cilantro sprigs, lemon slices. Pat skin dry and then drizzle with 1 tablespoon olive oil; season with salt. Grill fish until skin is crisp and flesh is flaky and opaque down to the bone, about 4 minutes per side. (If a small knife slides easily through the thickest part of flesh, the fish is done.)
Serve whole with Green Harissa sauce.