Are you interested in cooking organic just-picked produce and preparing local and sustainable meat & fish in a farm setting? NOW IS YOUR CHANCE! Come cook with me at Pie Ranch! We will make a plethora of recipes, explore French technique in the outdoor kitchen (complete with wood burning oven), eat in the sunshine right next to the verdant fields, drink wine, talk about food and have a great time on the farm!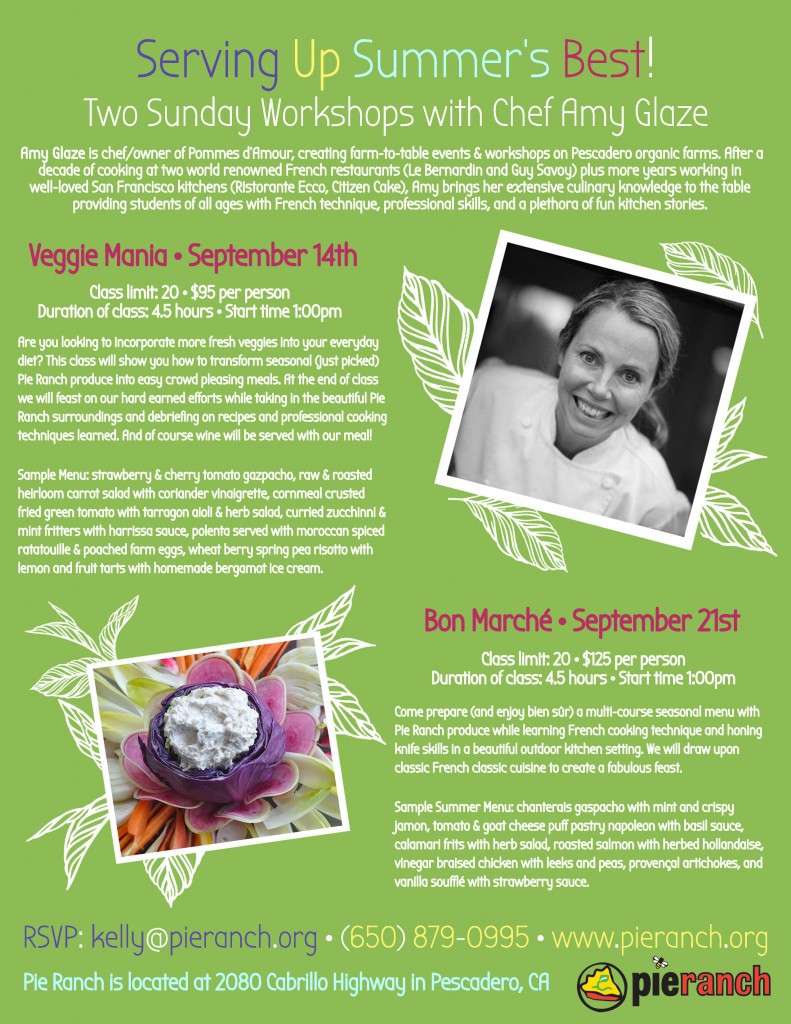 Or if September is just too far away come join me for the Chef Series at Pie Ranch July 19th for my…
I Dip, You Dip, We Dip Class: This is a professional knife skills & kitchen tools course cleverly disguised as just an ordinary chips n' dip kinda class! We will hone our skills while preparing a completely seasonal Pie Ranch sourced menu showcasing the amazing and wonderful ways dips can be used from stand alone appetizers to fabulous main course garnishes & sauces. At the end of class we will debrief on our dip-tastic recipes & skills learned, enjoy the beautiful surroundings, and dig in to our feast! And yes, wine will be provided to enjoy with our meal.
Sample Menu: Crudité with Caramelized Onion Dip (this ain't your Lipton soup mix!), cornmeal crusted zucchini sticks with herbed ranch dip, Watermelon gazpacho with Dungeness crab, Coriander spiced chicken thighs with rhubarb & cucumber salsa, Shrimp with roasted cherry tomato salsa, braised greens with fundido sauce. For dessert: homemade vanilla ice cream sundaes (made from a crème anglais base) with strawberry and/or chocolate sauce, shortbread cookies, whipped cream.
July 19th, 1Pm- 5PM, at Pie Ranch, $95/person (class limit at 20 people) and there is a barn dance in the evening!
Pie Ranch is a beautiful bucolic coastal farm right off of Highway 1 about 20 minutes North of Santa Cruz and 30 minutes South of Half Moon Bay. Come cook with me! Sign up the OLD FASHIONED WAY by picking up the phone and calling Kelly or Alexandra at Pie Ranch at (650) 879-0995. Or you can RSVP to kelly@pieranch.org
HOPE TO SEE YOU THERE!